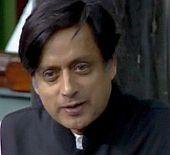 Shashi Tharoor, who quit from the Union council of ministers over the IPL row, on Tuesday insisted that he had done nothing "unethical or illegal" and said he has urged Prime Minister Manmohan Singh to probe the charges made against him.
Making a statement in the Lok Sabha, he said, "I have done nothing improper, unethical and much less illegal... I have requested the Prime Minister to investigate thoroughly the charges against me."
"It is important to me that my name is cleared," Tharoor said in the statement explaining the background of his resignation.

Noting that he had no desire to be an embarrassment to the government, he said his resignation would strengthen the hands of the Prime Minister and his Cabinet colleagues to go deeper into the relevant issues.
"My conscience is clear...I have done nothing improper or unethical.  I have no desire to be an embarrassment to the government... and my departure will allow PM and cabinet to focus on the challenges facing the nation," he said.

He said it was a privilege to have served the government and the Congress party under the leadership of Singh and UPA Chairperson and Congress President Sonia Gandhi.
"I am new to Indian politics... but I have a long record of public service untainted by allegations of financial irregularity... I am deeply wounded by the malicious charges against me," Tharoor added.
Tharoor was reportedly in trouble after Modi tweeted to reveal that Sunanda Pushkar, a close friend of Tharoor, had been gifted sweat equity worth Rs 70 crore in the new Kochi IPL team, which was sold for Rs 1530 crore last month.


Modi, in his email to the Board of Control for Cricket in India chief Shashank Manohar, had stated it was Tharoor who called him and instructed him not to reveal the identities of the stakeholders of the Kochi IPL franchisee. 


Tharoor, however, has denied this. Tharoor said he had 'enough' of the controversy and denied securing any monetary interest in the Kochi IPL team.