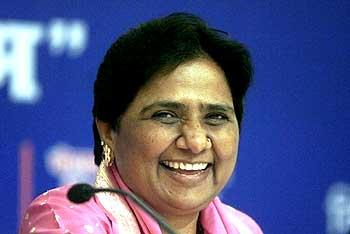 Uttar Pradesh chief minister Mayawati's focus on the state's deteriorating law and order led to the unceremonious exit of Director General of Police Vikram Singh late Tuesday night.
Singh, who was hand-picked for the top cop's job shortly after Mayawati assumed power in May 2007 , took off very well on account of his image as a tough police officer.  However, within the first year itself, he began to lose credibility.
He continued to build his brownie points through various acts of sycophancy which included his alleged moves to repeatedly impress upon the chief minister how her life was increasingly under threat and how necessary it was to enhance her security. Thanks to the said threats, Mayawati made herself completely inaccessible to all and sundry.
He took off by issuing diktats and "sermons" to his subordinates nearly twice a week. While these speeches gave him much media hype, they meant little to those in the field under his command.
According to an insider in the DGP's office, Singh issued more than 100 sermons over the 27 months that he remained in command of the largest single police force in the country.
While he continued to impress Mayawati with his gift of the gab, what opened the chief minister's eyes for the first time was his utter failure in assessing the actual strength of bandit Ghanshyam Kewat who single-handedly held thousands of UP cops to ransom for nearly three days in Chitrakoot .
Singh, who after failing to keep his self-proclaimed "four-hour" deadline for annihilating the dreaded dacoit, went about attributing the delay to "possession of sophisticated weapons with the Kewat Gang".
What left the DGP high and dry was the subsequent discovery (after Kewat was finally gunned down) that neither was there a single member of his gang with him , nor did he possess any weapon other than a 315 Bore single-barrel  rifle. Yet he not only contained the cops for almost three days but also killed and injured nearly a dozen of the khakhi-clad.
Murders, rapes, kidnappings for ransom and loot have been on the rise and cops were not only becoming unbridled but also totally unresponsive to the poor and downtrodden.
Having  seen the adverse impact of her upper caste appeasement at the last Lok Sabha elections in which  the ruling BSP could barely retain its earlier tally , Mayawati had already started re-building her bridges with her core support base of Dalits.
The most scathing attack against Vikram Singh came from state Congress chief Rita Bahuguna Joshi who trained her guns at Mayawati through him.
"While Dalits were being targeted and their women were being raped, the UP DGP flies in a  helicopter to offer a paltry compensation of 25,000 rupees to the victim ; that should be a matter of shame," Joshi asked at a public rally. She went on to add, "If that be the case, then I would like to ask Mayawati to face their plight ; I  would be willing to offer a compensation of a crore rupees."
The remark provoked Mayawati to slap the Dalit Act against Joshi, while BSP's own goons stormed her Lucknow home and set it ablaze. It was alleged that top policemen had a hand on the incident.
Insiders claim that Singh's nemesis was written on that very day.
Evidently, the chief minister was on the lookout for a non-controversial replacement , who could foot the bill on other counts too -- to get down to brass tacks and bring down crime, so that Mayawati  to re-build her USP of "restoring law and order in a lawless Uttar Pradesh".