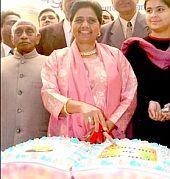 In a surprise move, Uttar Pradesh Chief Minister Mayawati on Thursday told her partymen to stop collecting funds for her birthday celebrations with immediate effect.
Born on January 15, 1956, Mayawati had made it a practice to observe her birthday with much fanfare for which huge collections were made well in advance. Her birthday was described as 'arthik sahyog diwas' (economic support day) about which she was quite blatant.
Addressing the concluding session of her two-day party national executive meet that drew BSP leaders from different  parts of the country, she made it loud and clear, "The practice of fund collection on my birthday is being done away with and there should be no raising of funds from my next birthday."
The decision is believed to have come following widespread criticism of the practice that even led to the murder of Public Works Department engineer Manoj Kumar Gupta, who was brutally lynched to death in Auraiya on December 24 last.
Gupta was allegedly killed by local Bahujan Samaj Party legislator Shekhar Tiwari for not fulfilling his demand for Mayawati's birthday contribution.
Interestingly, in her defence, Mayawati had gone to the extent of justifying her stance by declaring, "My party is not a party supported by industrial houses and affluent businessmen like the Congress and Samajwadi Party. Therefore, it has been an established practice in our party to collect funds on both mine and party founder Kanshi Ram's birthday."
With a view to enhance the receipts in the party kitty, Mayawati announced a hike in the membership fee from Rs 20 to Rs 40, while declaring launch of a special membership drive from January 1 to March 31 next.
According to the party constitution, the membership fee is revised after a gap of every five years.
She also trained her guns at the Congress-led UPA government for the 'unprecedented rise in prices of essential commodities'.

And virtually declaring war on the Centre, she announced a nationwide 'dharna' and street demonstrations 'to expose the anti-people and pro-capitalist policies of the Union government'.