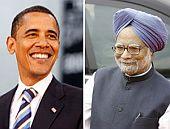 Though no official one-to-one meeting has been scheduled between United States President Barack Obama and Indian Prime Minister Manmohan Singh, the two leaders are expected to have informal chats with each other at Pittsburgh on the sidelines of G-20 Summit later this week.
Obama, a great admirer of the Prime Minister, is expected to informally meet with Manmohan Singh during the two-day summit on September 24 and 25, authoritative administrative sources told PTI.
Dr Singh will arrive in Pittsburgh on September 24, hours before the summit meeting officially takes off and his entourage is scheduled to leave immediately after the summit concludes on the next day.
Obama, who left Washington for New York on Monday, would spend rest of the week at the United Nations headquarters in New York to attend a series of meetings, including the UN-sponsored Summit on Climate Change, besides holding a series of bilateral meetings -- prominent among them being his meetings with the leaders of China and Japan.
On September 24, Obama would also chair Security Council Summit meeting on nuclear non-proliferation and disarmament. Soon thereafter he would leave New York for Pittsburgh, wherein he would host the dinner reception for the leaders of the top 20 economies of the world.
A formal bilateral meeting amid the hectic schedule of the two leaders would have been more of a photo-op rather than yielding anything substantial. Moreover, Obama has invited Manmohan Singh on his first State visit of his presidency, signifying the importance he attaches to the Indo-US relationship, the sources said.
Informed sources said at G-20, the world leaders would expect Dr Singh, himself a leading economist, to show the way in overcoming the financial crisis and guide in laying foundation of a strong global economy and a system wherein such crisis could be avoided.