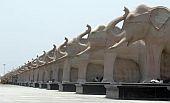 The Supreme Court on Friday expressed dissatisfaction over the Uttar Pradesh government's plea on the alleged violation of an undertaking for stoppage of work at Kanshi Ram Memorial Sthal in Lucknow and said the stay on all such activities will continue.
"The affidavit (of the UP Government) is not satisfactory," a bench comprising Justices B N Agrawal and Aftab Alam observed.
The Supreme Court had on September 11 directed forthwith stoppage of all further construction, repair and maintenance activities at the Kanshi Ram Memorial Sthal in Lucknow.

The apex court also directed the state government to ensure that barring the watch and wards staff, no person shall be allowed to be present in and around the sites after 7 pm Friday.

A bench of Justices B N Agrawal and Aftab Alam also issued show cause notice to the state Chief Secretary for allegedly violating its September 8 order in which the UP government had given an undertaking that it will not carry out any further construction activities.

The apex court said that the Chief Secretary shall in "unambiguous" terms explain the nature of construction activity purportedly being carried out at the site as alleged in media reports.
Senior advocate S C Mishra, a close aide of Mayawati, had on September 8 given an undertaking that no construction activities will be carried out at the site.

The apex court had rapped the Uttar Pradesh government for spending Rs 2,600 crore on memorials for Kanshi Ram and other Dalit leaders in Lucknow, saying it would examine the constitutional validity of such memorials for political leaders using taxpayers' money.

The bench had said that the government cannot "fritter away" public money on such memorials.

The Mayawati government had triggered a controversy by changing the land use of certain areas adjoining the 35-acre sprawling Ambedkar Sthal park green belt area by demolishing 30-odd public buildings to construct the memorials.

However, the move was opposed by Gomti Nagar Jan Kalyan Mahasamithi, the petitioner Mithilesh Kumar and others who alleged the entire exercise was illegal as the proposed construction was sought to be made in a notified green belt area by demolishing buildings which were decades old.