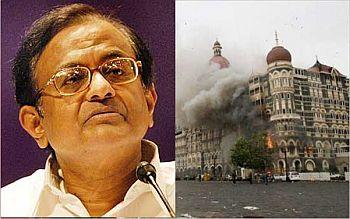 India has never ruled out the involvement of state actors in Pakistan in the Mumbai terror attacks despite Islamabad's contention to the contrary, Home Minister P Chidamabaram has said on the eve of his visit to the United States.
'We have never ruled out (involvement of) state actors. Although Pakistan has maintained that only non-state actors were involved, we have never ruled out the involvement of state actors and we have never accepted this distinction between state actors and non-state actors because both operated from Pakistani soil,' he told NDTV, replying to a question on possible links of the Pakistan army in the attacks.
He said Jamaat-ud Dawa chief and alleged 26/11 mastermind Hafiz Saeed was accompanied by one 'Major General Saab' during a meeting with Mohammad Ajmal Amir Kasab and other Mumbai terror attacks accused at a training camp.

'Well that (involvement of Pakistan army) can only be revealed by investigation,' he said.
Chidamabaram termed as 'atrocious' Pakistan's decision to let off Saeed in Mumbai case and said there is 'enough and more' evidence to continue the probe against him.
'There is enough and more evidence to continue the investigation against Hafiz Saeed. On the face of this evidence, to let him off, I think, is atrocious,' he said.
Asked if he will raise with Washington the need to weigh upon Islamabad that it has to act against Saeed, Chidamabaram said: 'If there is an opportunity, I will take them through the sixth dossier. It has already been shared with many countries -- 16 including the US.'
'So they know what we have but if there is an opportunity, I will certainly walk them through the dossier to point out that there is enough evidence (against the JuD chief),' the Home Minister, who will be paying a four-day visit to the US beginning Tuesday, said.
On if the official establishment in Pakistan was 'somewhere' involved in 'covering up' the probe, Chidambaram said: 'Covering up is a very strong word. (But) there is for some strange reason, unwillingness to take the investigations forward.'
'What they told common friendly countries, what they told our Prime Minister, is that they will spare no effort to prosecute and punish the perpetrators. In the light of that, letting off Hafiz Saeed is unacceptable.'
'I don't know who else is involved. There is a 'Major General Saab' for example. Therefore, unless there is a proper investigation, I am not in a position to say that Pakistan intends to keep its promise and why they are unwilling to take the investigation forward.'
Asked if the sixth dossier on the Mumbai strikes to Pakistan will be the last one, the Minister said, 'How can I say? If they invent more questions, I will continue to answer them, (but) over a growing sense of frustration.'

He also said that after a point the dossiers will be a 'charade, but I don't want to give them any quarter to say that answers are not forthcoming and, therefore, we are not investigating.'