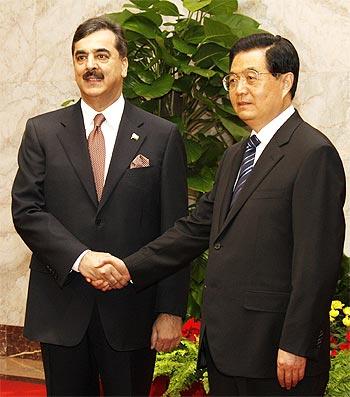 Pakistan and China on Tuesday vowed to boost up collaboration in defence and counter-terrorism as visiting Pakistan Prime Minister Yousuf Raza Gilani invited Chinese defence industry to set up joint ventures in his country for warships and fighters.
Counter-terrorism and defence cooperation dominated a meeting between Chinese President Hu Jintao and Gilani and the two sides agreed to enhance cooperation in countering threats from terrorists and to work on a comprehensive strategy on security related issues.
At the meeting Hu outlined a major project to upgrade the Karakoram highway connecting the two countries overland and Chinese help in the Neelam-Jhelum hydroelectric project in the Pakistan-Occupied-Kashmir.
"Howsoever, the international situation may change. The people of China and Pakistan are always joined in hearts and hands," the Chinese President said.
The Pakistani Prime Minister on his first visit to China after taking over office is also scheduled to meet Chinese premier Wen Jiabao and Jia Qinglin, head of China's top political advisory body.
Before meeting Hu, Gilani had a meeting with Chen Qiufa, administrator of China's State Administration for Science, Technology and Industry for National Defence, where he called for enhancing defence ties.
"Pakistan was interested in the production of defence-related equipment and setting up of local overhauling facilities, and invited the Chinese companies to invest for joint ventures in this regard," Gilani said.
Image: China's President Hu Jintao shakes hands with Pakistani Prime Minister Yousuf Raza Gilani prior to their talks in Beijing on Tuesday
Photograph: Reuters
 Text: PTI