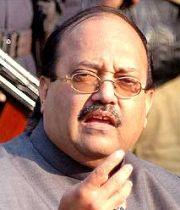 Samajwadi Party general secretary Amar Singh has blamed the party's loss in the
Firozabad Lok Sabha bypoll on the overconfidence of its chief Mulayam Singh Yadav and said Yadav "behaved symbolically like Mayawati" while campaigning in the constituency.
In an interview to news channel News 24, Singh said it was overconfidence of Mulayam Singh Yadav and his family that was responsible for the SP chief's daughter-in-law Dimple Yadav's loss to Congress nominee Raj Babbar.
"These people made the mistake of thinking that this was their stronghold, similar to Rai Bareli or Amethi strongholds of Indiraji or Soniaji or Rahulji. But look at the amount of time these Congress leaders have spent in their constituencies. In his campaign, Mulayam Singhji behaved symbolically like (Uttar Pradesh Chief Minister) Mayawati and did not campaign on the ground at all. This was our complacency," a release from the channel quoted him.
Asked whether Akhilesh Yadav (Mulayam's son) took upon himself the entire responsibility of Firozabad bypoll and did not want to involve anyone else, Singh said, "People have this notion that this is my area and I don't need anyone. Outsiders only need to fulfill a formality. (Though) I am not excusing the fact that there was a disquiet among public regarding some of our local workers."
Asked to elaborate further whether Firozabad was lost due to Yadav family's overconfidence, he said, "Not only Akhilesh's, but that of Mulayam Singh and his entire family and my illness."
Singh also said the party did not stand by him during his illness.
"I now know that in a critical situation, it is only the family that gives support. It is not the party that stands by you, the party only uses you for its own convenience...
"Mulayam Singh came only once (to meet me in Singapore). I have to say that more than the party, my family put all work aside to stay by my side."
Singh said he was unfairly being made the scapegoat for the party's failures.
On whether he was disillusioned with SP, Singh said, "I am not disillusioned, but the change, the pace required in the party due to demands of the times is not happening."
On the issue of partnering with Kalyan Singh, the SP general secretary said it was a "mistake".
"It was definitely a mistake to bring Kalyan Singh on board, because if a person revolts due to personal reasons, a change of heart is very unlikely. He said he wanted to weaken the Bharatiya Janata Party and he did it. He used the SP as a special purpose vehicle to attain that objective," Singh said.
The SP leader, however, denied that he was responsible for bringing Kalyan on board. "I had no role to play in the induction of Kalyan Singh. Ask Mulayam Singh, let him say outright that I had anything to do with it."
On being asked if Mulayam still thinks he is relevant to SP, Singh said, "the very fact that Mulayam Singh finds me relevant may be responsible for jealousy among senior party leaders and local party workers. When they are unable to attack Mulayam Singh, they attack me...
"In fact medical advice to me is to stay at home... And this is only because this is a difficult time for Mulayamji. I have repeatedly asked him to let me go."
Image: Amar Singh