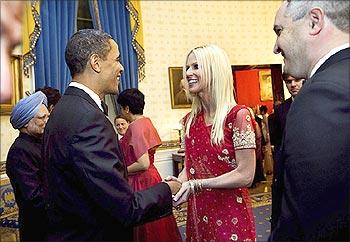 American couple Michaele and Tareq Salahi, who gate-crashed into a State Dinner on Tuesday, came face to face with United States President Barack Obama as well as Prime Minister Manmohan Singh at the event, in the White House. A White House picture posted on several US websites showed the reality TV stars being greeted by Obama at a reception line with Manmohan Singh standing alongside.
A White House official said the couple, who attended the State Dinner without an invitation, did meet the President in the receiving line, but the gate-crashing has led to security alarm buttons being pressed. The President has ordered a full review of the incident.
An internal Secret Service investigation is already underway as the socialite couple breached several layers of security to mingle with the who's who at the White House lawns.
"The Secret Service is deeply concerned and embarrassed by the circumstances surrounding the State Dinner," admitted Mark Sullivan, director of the Secret Service.
Sporting a tuxedo and a flowing red lehenga, the Salahis posted their entry into the mega event on Facebook, with photographs taken with Vice President Joe Biden and White House Chief of Staff Rahm Emanuel.
"Although these individuals went through magnetometers and other levels of screening, they should have been prohibited from entering the event entirely," Sullivan said, admitting that "That failing is ours."
Meanwhile, amidst media reports, the Indian Embassy in a statement said it had not requested an invitation for Michaele and Tareq Salahi.
The couple was known for their proximity to the Indian Embass and were instrumental in organising the US-India Polo match, scheduled to be held next summer at the prestigious National Mall.
"Neither the embassy nor anyone from the embassy was involved in any way in their getting into the White House. Nor did we request any invitation for them," the Indian Embassy said in a statement.
It was in the Blue room that Michaele and Tareq Salahi shook hands with the President and First Lady Michelle Obama, who were there to greet their guests. Manmohan Singh stood close to them. However, the couple did not make it all the way to the tent in the South Lawn where both Dr Singh and Obama raised toasts and dinner was served.
"The preliminary findings of our internal investigation have determined that established protocols were not followed at an initial checkpoint, verifying that the two individuals were on the guest list," Sullivan noted.
The couple is aspiring to be reality-show celebrities for a new show, 'The Real Housewives of DC'.
According to Secret Service spokesperson James Mackin, the authorities have not ruled out pressing criminal charges against the couple. The Secret Service is undertaking a full review on where and when the security breach took place.
Meanwhile, the gate-crashing couple remained incommunicado, while their lawyer claimed that his clients were cleared to be at the event at the White House.
Image: US President Barack Obama greets Michaele Salahi and her husband Tareq during a state dinner for Prime Minister Manmohan Singh at the White House | Photograph: Reuters