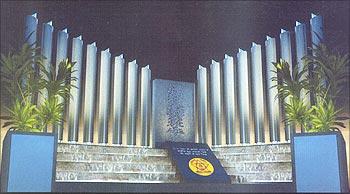 To immortalise the 18 policemen, who were killed by terrorists on 26/11, the Maharashtra government has built a Shaheed Smarak (martyrs' memorial) at the Mumbai Police Gymkhana facing the Arabian Sea on the city's landmark Marine Drive.
Says Additional Commissioner of Police Deven Bharti: "In the last one year a lot has changed in the Mumbai police. We are now mentally prepared, physically well-equipped and logistically superior than before to face any kind of terrorism."
The newly acquired equipment will be presented to the city's residents in a parade down Marine Drive on Thursday morning.
Bharti claims the Mumbai police has undergone lengthy training and gone through brainstorming sessions, envisaging threat perceptions like never before.
"Not only the Mumbai police but Mumbai too has changed for the better," he says. "26/11 has changed the people's idea of security. They are more informed about the security apparatus now, people are now sensitised towards anything wrong in public places. I find the people are much more responsible now."
At a personal level, Bharti says, "My one and only regret is that we could not nab the terrorists before the National Security Guard arrived. But we have learnt our lesson and we will defeat the enemy in the shortest possible time."
The Mumbai police currently faces a lot of infighting over then police commissioner Hasan Gafoor's allegation against Bharti and three other senior officers.
Joint Commissioner of Police (crime) Rakesh Maria also confronts criticism from Vinita Kamte, the wife of Additional Commissioner of Police Ashok Kamte who was killed on 26/11 along with Hemant Karkare, chief of the Anti Terrorist Squad.
While refusing to comment directly on Vinita Kamte's allegation that Maria did not provide correct information about the night of 26/11, Bharti says, "Nobody can understand the grief that police officers's widows go through. We respect their pain, we understand them."
On Thursday, all these differences will be overshadowed for a while when Home Minister Palaniappan Chidambaram dedicates the Shaheed Smarak at 6 pm, in the presence of Maharashtra Chief Minister Ashok Chavan, Deputy Chief Minister Chhagan Bhujbal and Home Minister R R Patil.