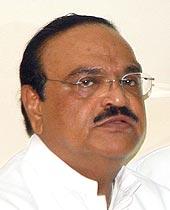 Triggering a fresh set of problems for Maharashtra Home Minister R R Patil, the state's Deputy Chief Minister Chhagan Bhujbal has blamed Patil of evading his call of duty during the Mumbai terror attacks by staying indoors and refusing to visit the venue on the first day of the attacks.
Speaking in an interview to DNA newspaper, the Nationalist Congress Party leader and Deputy CM Bhujbal has talked about the situation inside the administration, when Mumbai was under attack by terrorists last year.
Bhujbal has reportedly said that despite trying hard to convince the Congress leader and the then state home minister, but Patil didn't accompany him to the place of incident and preferred to stay inside his home.
He has said that he asked Patil that even if he didn't want to visit the place of incident, he should visit the office of state deputy general of police at least. "On this, Patil asked me to move on and he would follow me later to the venue," he said.
"I asked RR Patil about the firing. I went to his home and told him that I wanted to visit the places where firing was going on. I asked him to accompany me. He told me that the police had asked him not to step out as a precautionary measure. I tried to convince him that we should at least visit the office of the director general of police. After discussing the matter for 15 minutes, I told him that I would go."
"He told me, 'You carry on. I will catch you later'," he said.
"I saw a news flash on TV that there had been some firing near Leopold Cafe. Initially, I thought it was a fight between Shiv Sainiks and Abu Azmi. After some time I realised something was seriously wrong. I took my revolver and stepped out of the home. I had a gut feeling that something big had happened and I should rush to help people," said Bhujbal to a question about how he first learnt about the Mumbai terror attacks.
Patil, who was the Maharashtra's home minister at the time of 26/11 attacks had to quit from his position after the incident.
He has been made the state's home minister for the second time this year after the assembly elections.
Image: Deputy Chief Minister Chhagan Bhujbal