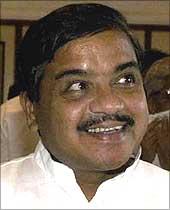 The Congress on Monday saw no wrong in the return of R R Patil as Maharashtra home minister, but dismissed suggestions of bringing back Shivraj Patil as the Union home minister, who too had quit in the wake of the 26/11 Mumbai terror strikes.
"Don't connect the unconnectable," said party spokesman Abhishek Singhvi, when asked whether he was also favoured the return of Shivraj as the home minister at the Centre.
Replying to questions on the appointment of R R Patil, he said the Congress-Nationalist Congress Party government has made him the home minister.
R R Patil was "not personally responsible" for the incident but had tendered his resignation on "moral grounds".
He said though 26/11 had happened during the Congress regime, the Congress-NCP alliance had been returned to power for the third time in a row showing that people are satisfied with its sincerity of purpose in handling the situation after the terror strikes.
"People understand the events that are beyond government's control. They don't hold government responsible for such things, but see how government had taken steps to counter the situation," he said.
A senior party leader on condition of anonymity said R R Patil is "pretty efficient and has a non-corrupt image".
Besides, he said that while R R Patil resigned on moral grounds, Shivraj Patil had to go on "other issues", which he did not elaborate.
Image: Home Minister R R Patil