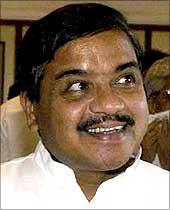 Stating that the people of Maharashtra still favoured the ruling Democratic Front government in Maharashtra, Nationalist Congress Party state unit chief R R Patil said that voters in the state do not vote on the basis of emotional issues.
"Unlike in other states where every political combination gets to form a government alternatively, people in Maharashtra favour stability, a development vision and there is no anti-incumbancy against the ruling coalition," Patil told media persons.
He said there had been a change in the government scenario just once, in 1995, when the Congress rebels, who had won in large numbers, instead went on to support a minority Shiv Sena-Bharatiya Janata Party combine.
Patil ruled out the possibility of a 1995-like scenario this time because voters want stability.
He ridiculed the promises made in the Shiv Sena-BJP manifesto like separate ministry for co-ordinating and monitoring interaction between government and people.
"Almost all promises made by the government are on the floor of the legislature. There is a separate Assurances Committee to monitor the promises made. The Sena-BJP is not aware of this legislative and constitutional provision," he said.
Patil also criticised the saffron alliance's "love" for farmers. Referring to the promise of pension for farm labourers, he said farm labourers in the state were getting pension for the last 10 years.
"When they were in power, they were busy building flyovers and bridges and never spared a thought for the farmers. Never before in the history of the state, such large relief packages have been given for the farmers as the Democratic Front government has given in the last 10 years," Patil said.
"The Shiv Sena-BJP is good at selling dreams, but once they come to power, they forget about it. They are not the representatives of farmers. Such promises bring them good publicity but not votes," he said.
Image: NCP Mahrashtra unit chief R R Patil