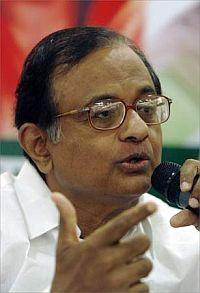 Terming demolition of Babri Masjid as an act of religious fanaticism and extreme prejudice, Union Home Minister P Chidambaram on Tuesday said communalism in all its forms was deplorable and asserted that it was the duty of the majority community to protect the minorities.
He also said that adopting the path of violence in the name of religion must be deplored. In an address to the 30th general session of Jamiat Ulama-i-Hind at Islamic seminary Deoband in Deoband, Chidambaram hailed the 'fatwa' issued by it against terrorism last year and said it was not only Muslims but also for all right thinking people to follow it.
"While all manifestations of communalism are deplorable, the worst kind of communalism is unleashing communal violence," he said. The minister said violence and violent means to achieve any objective is the anti-thesis of a civilised society governed by the rule of law.
"The demolition of the Babri Masjid was a manifestation of religious fanaticism and an act of extreme prejudice. Likewise, taking to the path of violence in the name of religion must also be deplored in unequivocal term," he said.
Chidambaram said he was glad to note that the Darul Ulloom at Deoband issued a 'fatwa' against terrorism on February 25, 2008 and categorically stated that 'Islam rejects all kinds of unwarranted violence, breach of peace, bloodshed, killing and plunder and does not allow it in any form.'
"I regard that decree as a call to duty to not only Muslims but to all right thinking people. I would urge that more voices be raised, loudly and clearly, against terrorism and all forms of violence," Chidambaram said.
The minister said a nation can ignore its minorities only at its peril and the golden rule in a democracy is that it is the duty of the majority community to protect the minority, be it religious, racial or linguistic.
"It is a self-evident rule. It is a rule that is firmly rooted in the universality of human rights. Hence, we have no hesitation in invoking that rule when Tamils are denied their rights in Sri Lanka or Indian students are assaulted in Australia," he said.
Chidambaram said no one can view Islam as an alien faith as the Muslim brethren are honoured citizens of India. "This is the land of your forefathers; this is the land of your birth; and this is where you will live and work. It is a matter of pride for us that all major religions of the world, including Islam, exist and thrive in India," he said.
The minister said every one must deplore and fight communalism whenever and wherever it manifests itself in word or action as communalism is the negation of pluralism. "Communalism also opposes modernity, rejects the idea of civil society, and opposes political freedom to the people," he said.
Chidambaram said three lessons flow from a true assessment of the perils of communalism. "Firstly, we must strive to build a modern nation, secondly, we must reiterate the concepts of a civil society. And thirdly, we must expand the political freedoms and ensure that every person enjoys those undeniable and inalienable freedoms," he noted.
Image: Union Home Minister P Chidambaram