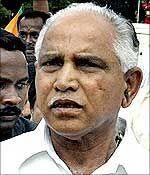 Karnataka Chief Minister B S Yeddyurappa, who had taken a tough stand on the ongoing crisis within the party, softened his stance on Sunday evening and termed the Reddy brothers -- consisting of state tourism minister G Janardhana Reddy and revenue minister G Karunakara Reddy, who are spearheading a faction within the state BJP to oust Yeddyurappa from the CM's chair -- his friends!
Interestingly, Yeddyurappa came down heavily on them at a function in Gadag in North Karnataka on Sunday afternoon. He said that when the state is supposed to focus on flood relief work, there are people indulging in dirty politics. "We should hang our heads in shame for not focusing on relief work and indulging in dirty politics instead. I will not let anyone usurp the state," he had said.
However, once in Bengaluru, Yeddyurappa was a changed man. Sensing that such statements would only cost him his chair, he said that problems are there in every family and such issues will be solved.
"The Reddy brothers are my friends and we will work out a solution. I don't wish to comment anymore on the crisis, since the party high command has asked me not to do it. The issue will be resolved very soon," he said.
Image: Karnataka Chief Minister B S Yeddyuruppa