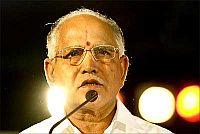 Representatives of Karnataka Chief Minister B S Yeddyurappa on Sunday met senior Bharatiya Janata Party leaders in New Delhi and claimed they had been assured that he will not be removed in the wake of dissidence in the state unit.
"We met (leader of opposition) L K Advani, (party president) Rajnath Singh and Sushma Swaraj and all of them were of the same view that the leadership in Karnataka will not be changed. They have a firm view on this," Yeddyurappa's emissary and former MP Dhananjay Kumar told PTI.
Dhananjay Kumar and Karnataka home minister V S Acharya held separate meetings with Advani, Singh and Swaraj. "Whatever grievances the other party (dissidents) have, the leadership is open to listening to them and arriving at an amicable solution," Kumar said.
When asked about chances of a leadership change, state BJP unit chief Sadanand Gowda said, "Certainly not. The central leadership, especially (BJP's pointsman for resolving the crisis) Arun Jaitley, made it very clear that there will be no change in leadership in the party."
He also said there were some 'small differences' between senior colleagues in the cabinet which will be sorted out.
Meanwhile, Karnataka Speaker Jagadish Shettar, who is representing the dissidents lead by Bellary brothers Janardhan Reddy and G Karunakar Reddy, held a meeting with Jaitley and Karnataka MP Ananth Kumar.
Shettar, who belongs to the dominant Lingayat community like CM Yeddyurappa, has been propped up by Bellary brothers as their candidate for the Chief Minister's post.
Ananth Kumar said BJP would arrive at an amicable solution to the crisis 'within the party framework.'
The Reddy brothers are expected to arrive in New Delhi on Monday. Karnataka Minister of Excise and Water Supply Katta Subramania said, "The crisis will be resolved in a day or two. We are not talking about leadership (issue) in the party."
Image: Karnataka Chief Minister B S Yeddyruppa