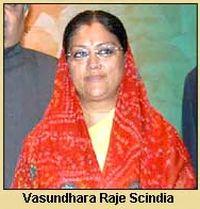 Former Rajasthan chief minister Vasundhara Raje will not resign as the Leader of Opposition in Rajasthan Assembly "for now" and would call a Legislature Party meeting by August 26, her spokesman said a day after the standoff over the issue eased with Bharatiya Janata Party leadership not setting a deadline for her to quit.
"Since the BJP President Rajnath Singh has himself not given any time limit for Raje to concede to his direction (of resigning), the Leader of Opposition is not resigning for now, and would call BJP Legislative Party Meeting between August 19 and August 26," Gyandeo Ahuja told mediapersons on Monday after a closed-door meeting at Raje's residence with 16 loyalists including six MLAs.
Ahuja said the party was preparing for the cooperative polls in Rajasthan slated for August 19, and an upcoming brief session of assembly "hence the matter quitting the post does not arise for now."
"If the party high command and the Central Parliamentary board put up any deadline of a week, month or a day, the leader of opposition was bound to follow it," he said.
Raje, who had defied the party's direction to quit following the Lok Sabha poll debacle, had on Sunday said that she would abide by the Parliamentary Board's decision, hinting a climbdown. After the meeting of the Board in Delhi, Rajnath said "that the message conveyed by me to her (to step down) will be followed by her", adding "no time-frame has been set."
Raje and and her supporting 60 MLAs were "not going against from the parliamentary board's directions and were following the party president's direction in a disciplined manner," Ahuja claimed.
About who was responsible for the crisis, Ahuja said it was "probably a matter of communication gap and a little bit of ego conflict of party leaders" but quickly added that Raje had no role in it.
The budget session of the state assembly was adjourned sine die on July 28 and the state Congress government had hinted early this month that a brief session of one or two days could be summoned for a municipal bill amendment as the civic polls are due later this