Jaitley colluded with Mallya, must resign: Rahul after BJP attack
September 13, 2018 13:41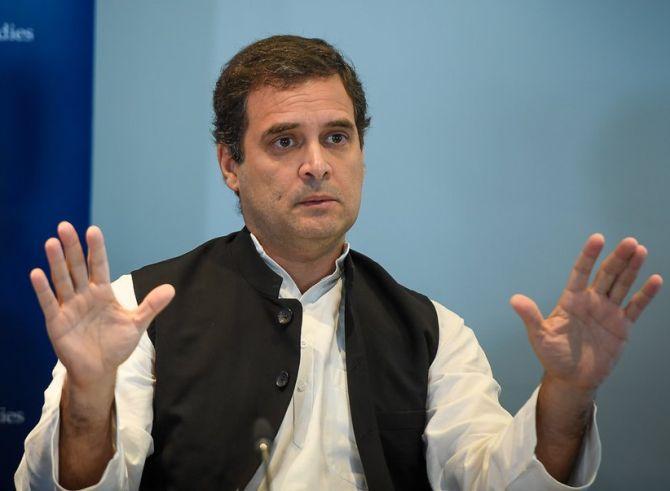 Congress president Rahul Gandhi says that Union Finance Minister Arun Jaitley 'has colluded in a criminal running away from the country'.
Gandhi's comments come a day after liquor baron Vijay Mallya said that he met the finance minister before leaving India, a sensational claim denied by Jaitley as 'factually false'.
"The government is lying about Rafale. The government is lying about Vijay Mallya. He was given a free passage out of the country by the finance minister," Gandhi said at a press conference, flanked by party leaders Ashok Gehlot, Randeep Surjewala and P L Punia.
"Vijay Mallya said yesterday that he met Arun Jaitley
ji
in Parliament before leaving. Arun Jaitley writes blogs on all meetings but I don't know why there was no blog by him on this meeting. He (the FM) said that he spoke only a few words to him (Vijay Mallya), which is a lie," Gandhi said.
"The finance minister talks to an absconder, absconder tells him that he going to London. The finance minister doesn't tell the CBI, ED or police. Why? The arrest notice was changed to informed notice. This can be done only by the one who controls the CBI," the Congress president said.

"Even if he (Mallya) caught up with you in the corridor why did you not tell the CBI, ED that he's going to flee, catch him? This is clearly a collusion, there is definitely a deal. The finance minister should clearly say what transpired and he should resign," he said.

Earlier in the day, the Bharatiya Janata Party came down heavily on the Congress and Rahul Gandhi and said that the United Progressive Alliance government benefited Mallya.
"Rahul Gandhi has gone on the backfoot over Kingfisher Airlines. Sometimes it seems the airline wasn't owned by Mallya but by Gandhi family in proxy. Benefits that the Gandhi family got out of Kingfisher Airlines via business class upgradation, free tickets etc is in public domain," BJP spokesperson Sambit Patra said.
Defending Jaitley, Union minister Ravi Shankar Prasad suggested that the FM was in fact rebuffing Mallya.
"Deliberate accosting by Mallya in corridors of Parliament and Jaitley rebuffing him to talk to banks for repayment of loans in just half sentence is sought to be made an issue by the Congress. It comes after Rahul Gandhi's visit to London. Are Mallya and Rahul Gandhi working in tandem?" Prasad asked.
"I can understand when the banking system is being made transparent and accountable, the Congress party has become uncomfortable. From 1947 to 2008 Rs18 lakh crore bank loans were disbursed, which increased to Rs 52 lakh crore by 2014 under UPA-II led by the Congress," he said.
Union minister Dharmedra Pradhan also defended Jaitley and blamed Gandhi for the controversy.
"Who used to go to parties in Goa? Who used to be his guests abroad? It should be found out. Won't let him go, as long as Narendra Modi is PM, however strong might the fugitive be, he'll be brought back," Pradhan said.
"He (Mallya) had taken undue advantage of his (Jaitleys) presence in Parliament corridor. Its a lie and violation of decorum. Those who believe such an untrustworthy person show their friendship with the fugitive," the minister said. --
ANI
« Back to LIVE
TOP STORIES