Rahul joins Bharat Bandh protest, cuts short Kailash Mansarovar yatra
September 10, 2018 08:49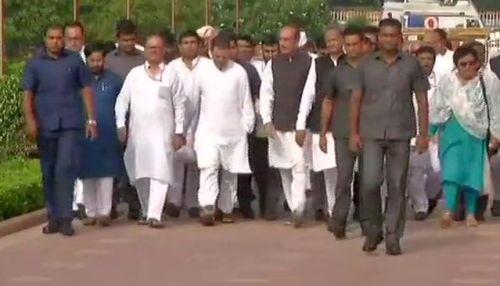 Congress chief Rahul Gandhi has cut short his visit to Kailash Mansarovar and has returned to Delhi to join the Bharat Bandh protest.
Rahul had left for Kailash Mansarovar on August 31 and was to return on September 12.
He, however, reached Nepal last night from Kailash Mansarovar and came back to Delhi.
Rahul reached Raj Ghat this morning before going ahead with the protest.
He was seen with senior Congress leaders like Ghulam Nabi Azad, Ashok Ghelot and Anand Sharma.
He will soon visit a petrol pump nearby to support Bharat Bandh.
Congress had called Bharat bandh from 9 am to 3 pm today.
-- Syed Firdaus Ashraf/Rediff.com
« Back to LIVE