Being together a distant dream: J-K cop's wife pens emotional post
September 03, 2018 09:24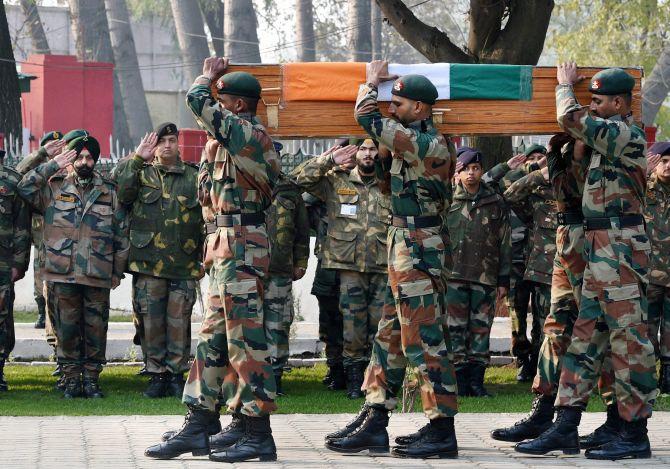 In the wake of terrorists targeting the kin of Jammu and Kashmir police personnel, the wife of a policeman from the valley has penned down a moving post about the sacrifices made by the men in uniform in the line of duty.
Arifa Tausif, a working woman, has written how most wives of policemen raise their children on their own like a single parent and have no one to support them with their husbands being away on duty.
"For the wives of policemen, the adolescent fancy of 'being together' through thick and thin turns out to be a distant dream. We halt for lunch. We keep waiting to dine together."
"We keep planning to attend family functions or funeralsGod forbid!together. We keep scheduling an outing. But that hardly ever happens. It's not about solo parenting only. We're the biggest liars!" Tausif wrote in an article that appeared on a local news website.
She mentions how the wives keep lying to their children assuring them that their father would be home on the coming weekend or the festival.
"We keep lying to our children that 'dad is coming this Saturday'. We lie that dad is attending the parent-teacher meet this time. We lie that we're going on a picnic this weekend. We keep lying that dad is going to join us this Eid, or that marriage. We keep lying to their old ailing parents that he is expected this or that day. We lie to our own selves," she wrote.
Sleeping alone is not the most stressful, but waking up in the middle of the night, uncomfortable, restless and suffocated is, Tausif said, adding that there is no one around to comfort.
"We wait and wait, and only wait. Let it be today, tomorrow or a day after, but the plan hardly ever subsides. Even if it does, a police officer only marks his physical appearance at home. Mentally (and telephonically) he is attending to his duties without fail," she wrote.
Tausif maintained that while all this makes their lives more stressful, the current scenario had turned the wives of policemen hypertensive as they were always in a state of insecurity.
"The risks and dangers are increasing day by day. Every single casualty of a policeman elsewhere makes our life additionally insecure and worrisome. Plus, the varying political ideology of the society makes it hard to explain to the people that doing a job in the police department never means disloyalty to one's people. It's not always a matter of choice," she added.
-- PTI
« Back to LIVE
TOP STORIES