Amid controversy, IAF pilots train on Rafale jets
September 03, 2018 18:01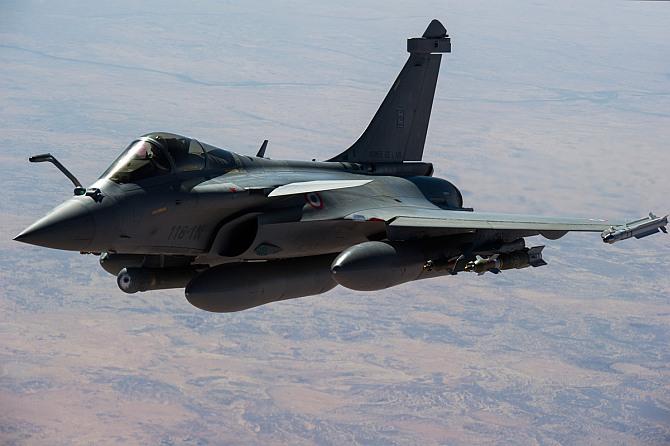 Three Rafale fighter jets are engaged in an exercise with the Indian Air Force in Gwalior and Agra, amid a raging controversy over the Rs 58,000-crore deal to procure 36 of them by the government.
Officials said around 100 French aviators, one Atlas A-400M military transport aircraft, one C-135 refuelling plane and an Airbus A310 cargo aircraft have also come to India along with the Rafale jets on a four-day visit.
They said a batch of IAF pilots have got an opportunity to train on the Rafale jets. The aircraft landed in India on Saturday after visiting Indonesia, Malaysia, Vietnam and Singapore.
India had inked an inter-governmental agreement with France in September 2016 for procurement of 36 Rafale fighter jets at a cost of around Rs 58,000 crore.
The delivery of the jets is scheduled to begin from September 2019. The Congress has raised several questions about the deal including alleged inflated rate of the aircraft but the government has rejected the charges.
In a statement, the French embassy in New Delhi said that joint flights and exchanges between the French and Indian Air Forces will be conducted as part of the four-day tour by the French contingent.
'This mission in India is yet another illustration of the depth of the Indo-French strategic partnership, which is celebrating its twentieth anniversary this year, and the great trust that prevails in the relations between our respective armed forces,' it said.
It said operational aim of the 'Mision PEGASE' is to reinforce France's presence in the region of strategic interest and deepen its relations with its main partner countries.
The French contingent is in New Delhi days after it participated in 'Operation Pitch Black', a multilateral air exercises which took place in Australia recently.
The Indian Air Force was also part of the mega exercise.
"This mission succeeds a major exercise in Australia, where our aircraft have carried out joint drills with those of the Indian Air Force," the French Embassy said.
A senior IAF official said the visit of the Rafale jets as well as other aircraft will further boost cooperation between the two forces. -- PTI
Image used only for representation.

« Back to LIVE
TOP STORIES