Naxalism on its last leg in the country: Rajnath
March 24, 2018 15:32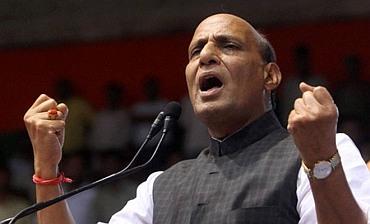 Union Home Minister Rajnath Singh today said the "serious" challenge of Naxalism in the country has entered its "last leg" and Maoists are now resorting to coward ambushes against security forces as they are unable to undertake a direct fight.
Addressing troops of the country's lead anti-Naxal operations force CRPF on the occasion of their 79th Raising Day, the home minister said due to operational efforts of these forces incidents of Left Wing Extremism have "drastically" come down in the recent past and the casualty rate of extremists has gone up.
The demoralised Naxal cadres are now not able to undertake a fight head on with security forces and hence with their limited capabilities are now resorting to coward ambushes and attacks, he said while addressing the men and officers of the force.
The minister, during his speech, paid tributes to the 9 men of the force who were killed in a Naxal ambush in Chhattisgarh's Sukma early this month after a deadly explosive was clandestinely triggered by ultras underneath a mine protected vehicle.
"Maoism has become a serious challenge...but because of the gallant and determined action of the CRPF and other forces, these incidents have come down drastically.
"Earlier, the casualty amongst security forces personnel and civilians was higher but now it is the reverse and the casualty rate of the Maoist cadres is higher," Singh said at the parade ground of the CRPF officers academy here in Kadarpur.
"I can say that the LWE problem in the country has entered its last leg and the people very well understand that Naxlas are anti-poor, anti-tribal and anti-development," the top boss of the country's internal security establishment said referring to killing of CRPF men during road construction work in LWE affected areas.
He asked the CRPF personnel to continue rendering their "multi-dimenisonal" role in various theatres like insurgency in the Kashmir valley and the north east as also against the LWE menace.
"You have always given a muh tod jawab (befitting reply) to these activities," Singh said.
The minister lauded the gallantry of the troops of the country's largest paramilitary force as he underlined that the CRPF men and women did not "lose their patience" during the deteriorating security situation in the Kashmir valley.
-- PTI
« Back to LIVE
TOP STORIES