Treating J&K as a law and order problem not the way forward: Yechury
March 20, 2018 00:06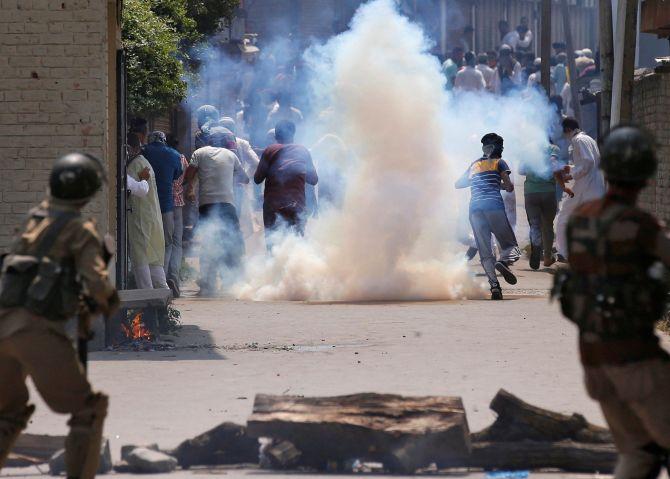 Calling upon the Centre to initiate a process of political dialogue involving all stakeholders, Communist Party of India-Marxist general secretary Sitaram Yechury on Monday said treating Jammu and Kashmir merely as a law and order problem was not the way forward.
Speaking at the two-day 11th state conference of the Jammu and Kashmir unit of the CPI-M, Yechury said the issue could not be resolved without adopting a composite approach.
"We want the political process to be started immediately and the country be immediately told about the policy towards Pakistan. There is uncertainty and lack of clarity which, we feel, can cause more damage.
Innocent people are getting killed like the family in yesterday s incident in Jammu," Yechury told reporters in Srinagar.
The CPI-M general secretary said there was no clarity on the roadmap the government plans to take to find a solution to address such problems.
"This problem cannot be solved without composite approach. Start a dialogue process, law and order cannot be the single approach, otherwise we will not reach towards the solution. Merely treating this as a law and order problem is not a solution. It has to be a political solution based on a process of dialogue with all the stakeholders," Yechury said.
Yechury said he had visited Kashmir with two Parliamentary delegations in 2010 and 2016 amidst unrest in the valley and called for confidence building measures and a political process to resolve the issue.
"The last time, under Union Home Minister Rajnath Singh in 2016, we decided that a process of political dialogue will be started with all stakeholders, the government accepted it. The second thing that the government accepted was taking CBMs like withdrawal of pellet guns and other developmental agenda.
"We also told them to make the policy on Indo-Pak dialogue clear to find a solution to the issue as it is also a component. About two years have gone, but no headway has been made. You have all the reports of the previous interlocutors or the working groups, you have instrument of accession of J-K and the promises made on the basis of that accession, let that be the basis for a dialogue process," he said.
There are many big challenges before the country and people due to the present government, which is running at the behest of the RSS, Yechury said.
"For the last four years, the economic condition of the common people has worsened. According to 2017 figures, only one per cent of our population controls 73 per cent of the total wealth of the country. Economic inequality is increasing, poverty and unemployment are increasing, there is a farming crisis and farmers are committing suicide," he added.
Yechury said communal polarisation was increasing in the country. "There are many private armies in the name of gau raksha, moral police, anti-romeo squads which are taking law and order in their own hands. Attacks have happened on Muslims and Dalits and lives have been lost," he said. -- PTI
« Back to LIVE
TOP STORIES