Rahul to meet Macron, but not to raise Rafale deal
March 09, 2018 21:23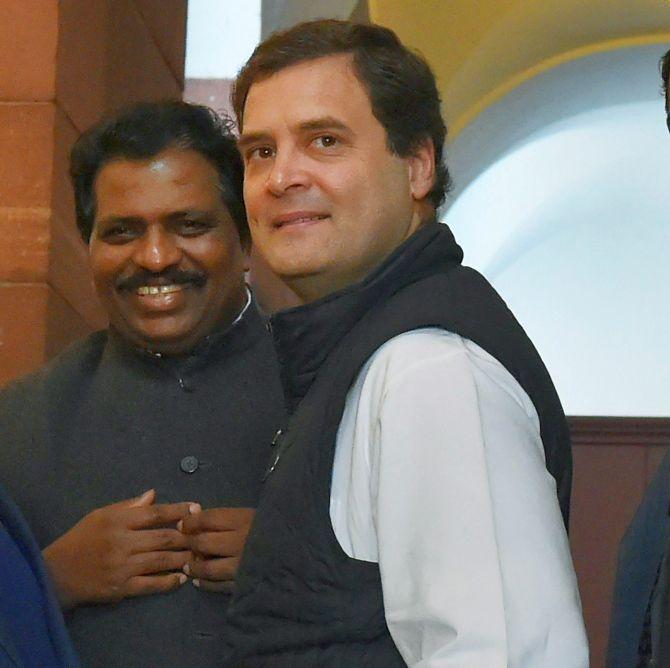 Congress President Rahul Gandhi is scheduled to meet French President Emmanuel Macron during his four-day India visit.
According to sources, the meeting is slated for Sunday after Gandhi returns from his two-nation visit to Thailand and Singapore that is part of his overseas Indians outreach plan.
The Congress, which has launched a tirade against the government over the Rafale deal that Prime Minister Narendra Modi struck during his visit to France in April 2015, however, said that the issue would not be raised during the meeting.
"The Congress party will not discuss India's defence deal with the head of state of a foreign country. This is our internal matter and this discussion the government has to do with France and not the Congress.
"We are demanding answers from our government and not from the French government," Congress communications in-charge Randeep Surjewala said.
Alluding to the Rafale deal, he said that when one goes to buy something, the buyer has to ensure whether the product is good or not, as the seller will obviously say his product is good.
The buyer has to decide looking at his pocket, Surjewala said.
"The government has to ensure that its money is not wasted and gets the best deal in the least money. There should be no loss to the state exchequer.
"It is not the responsibility of Mr Macron, but Prime Minister Narendra Modi and the Defence minister, on which they have failed," he alleged.
The Congress has been attacking the government on the Rafale deal and demanding answers from it over the price of the aircraft.
The Congress today alleged that the government has caused a loss of Rs 12,612 crore to the state exchequer by buying the aircraft from Dassault Aviation, the French manufacturer of Rafale fighter jets.
The party alleged that the company sold each jet to India at Rs 351 crore more than those sold to Qatar and Egypt 11 months ago.
The government has refused to divulge details of the purchase price of Rafale jets due to the "secrecy clause" in the agreement signed with the French government.
Surjewala said if a president or prime minister of any country come to India, "He is our guest and there are no differences between the government and the opposition".
The heads of state formally meet the opposition leaders, as they had been meeting Sushma Swaraj and Arun Jaitley in the past, he said.
Gandhi, who is the leader of the principal opposition party in the country, has been meeting visiting heads of state and government after he took over as party chief.
Gandhi recently met visiting Cambodian Prime Minister Samdech Hun Sen and Canadian Premier Justin Trudeau.
He was in Italy during Vietnam President Tran Dai Quang's visit, who met UPA chairperson Sonia Gandhi and former Prime Minister Manmohan Singh. -- PTI
« Back to LIVE
TOP STORIES