'Innova' not good enough for K'taka minister, wants 'Fortuner'
June 21, 2018 18:16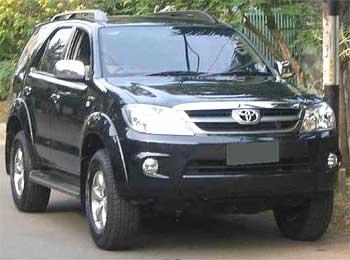 A Karnataka minister revved up a controversy on Thursday, saying he has sought a Toyota Fortuner SUV for official use as he is accustomed to travelling in "big cars since childhood", a remark that drew criticism from the
opposition Bharatiya Janata Party but was defended by the Congress.
Food and Civil Supplies Minister B Z Zameer Ahmad Khan, who comes from a family of businessmen, said he has been sanctioned a Toyota Innova, which he found "low level", and so he sought a Fortuner.
"I have been travelling in big cars since my childhood. I have been sanctioned an Innova. I don't find it comfortable because I have always travelled in vehicles that are big (in height)....Innova is low level," he told reporters.
Khan, who is said to have a fleet of over 100 luxury buses, however, said Innova was a "good car....better than Fortuner, especially for long journeys....only that I am accustomed to travelling in cars that are big (in height)".
When his attention was drawn to the buzz in political circles that he had sought the Fortuner used earlier by Siddaramaiah, he said there were 2-3 SUVs still to be allotted and among those was the one used by the former chief minister.
The Congress leader said he was okay with any SUV, but as among the vehicles available was the Fortuner used by Siddaramaiah, and was in good condition, he asked for it.
"Is it a permanent car? These are all temporary. Even power is temporary,"he said.
Reacting sharply to the minister's demand, BJP spokesman S Prakash said, as Khan owned a fleet of over 100 luxury buses he should travel in his own car.
"He owns over 100 luxury buses. Kumaraswamy (chief minister) wants to implement austerity measures. Khan has to serve the people of Karnataka, a majority of whom are poor or middle class. The minister should reduce his luxury," Prakash told a TV news channel.
Congress MP Syed Naseer Hussain, however, defended Khan, saying there was nothing wrong in a minister requesting for a particular type of vehicle.
"You people (the media) highlight unimportant issues. What's wrong in putting in a request? If a minister is uncomfortable in a car, why can't he ask for another?" Hussain, a Rajya Sabha member from the state, said.
Asked why was he seeking a government-owned vehicle when even Chief Minister H D Kumaraswamy was using his personal Range Rover for official purposes, Khan said he wanted people to recognise that he was a minister.
"Chief Minister Kumaraswamy...everyone knows him. He needs no introduction...He is so popular. I'm just a minister. I too have a wish. It is rare to get this opportunity.
"People have to recognise us as ministers. If I go by a normalcar, will people recognise me? If I go by minister's (government) car, they will say look the minister is going," he said. -- PTI
« Back to LIVE
TOP STORIES