Govt can't give security to everyone: Goa BJP leader on 20-yr-old's rape
June 03, 2018 16:33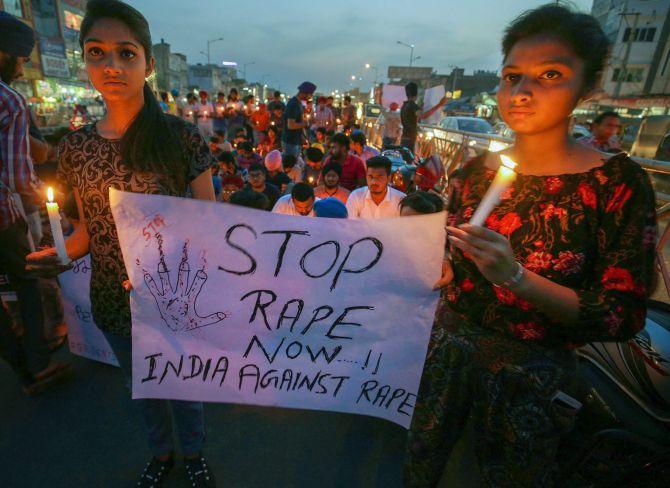 Days after a 20-year-old woman was allegedly gang-raped on a South Goa beach, state Bharatiya Janata Party women's wing president Sulakshana Sawant has said the government cannot provide security to every individual.
The opposition Congress has criticised Sawant for her 'disgusting' statement and said she should resign from her post on moral grounds.
"The government cannot provide security to every individual. We need to change the mentality of the people. An individual can act as a protector of the other," Sawant told a press conference in Panaji, while responding to a question on the alleged gang rape of the woman on a South Goa beach on May 25.
The 20-year-old victim was allegedly sexually assaulted by three men from Indore in front of her boyfriend, the police had said.
Sawant said there was an increase in the number of rape cases being reported to the police because more women were coming forward to report such crimes these days.
"The women believe that something may change if they take a step forward (and report such cases)," she added.
Sawant said the BJP women's wing would request the state tourism department to install CCTV cameras on the crime-prone beaches of Goa, which attract lakhs of travellers every year.
Meanwhile, the Goa Pradesh Mahila Congress Committee said it was the responsibility of the government to provide security to every individual.
"It is disgusting that Sawant is making such a statement. She should immediately resign on moral grounds," GPMCC chief Pratima Coutinho said, adding that it was the government's responsibility to provide security to every individual, especially women. -- PTI

« Back to LIVE
TOP STORIES