Jadhav row: 'Chappal chor Pakistan' protest rock Washington
January 08, 2018 12:03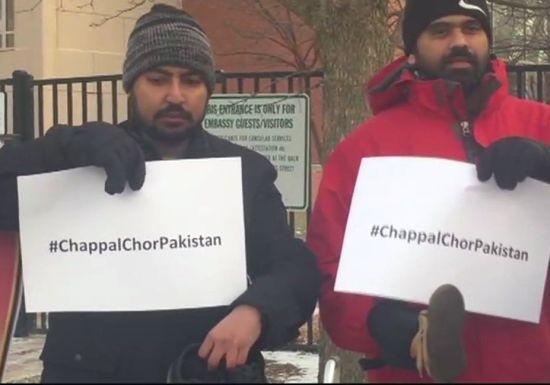 A group of Americans of Indian, Afghan and Baloch descents has protested outside the Pakistani embassy in Washington against the "inhumane" treatment of the wife and mother of Indian death row prisoner Kulbhushan Jadhav during their recent visit to Islamabad.
Braving freezing cold, the protesters also brought along sandals to give them to the Pakistani embassy officials.
"The trial of Kulbhushan Jadhav violated all norms of international law as it was conducted by a military court," said Ahmar Mustikhan, founder of the American Friends of Baolchistan, which organised the unique event named as "Chappal-Chor Pakistan" (slipper-thief Pakistan).
Both Jadhav's wife and mother were asked to remove their sandals, mangalsutras and bindis before they were allowed to meet him, and the sandals were subsequently stolen, Mustikhan said.
The protesters said that Pakistan meted out "inhumane" treatment to Jadhav's wife and mother during their tightly-controlled interaction with the 47-year-old Indian national on December 25 in the Pakistan foreign office.
During the meeting, whose pictures were released by Pakistan, Jadhav was seen sitting behind a glass screen while his mother and wife sat on the other side. They spoke through intercom and the entire 40-minute proceedings appeared to have been recorded on video.
"The recent episode of Pakistan makes a mockery of humanity. By not returning the slippers of Smt. Kulbhushan Yadav and asking them to remove even Bindi and Mangal Sutras and changing their dresses as well, it is just another sleazy activity Pakistan has done to a Bharata Soubhagya Nari (married Indian woman)," said Krishna Gudipati, local Hindu community leader in USA.
Carl Clemens, volunteer with several local community organisations alleged that the treatment given to the mother and wife by Pakistan foreign office typified the "petty vindictiveness and humiliation" that is the prevalent culture in Pakistan.
"They have humiliated the religious and faith symbols of Hindu womanhood. Because of this sort of behaviour Pakistan has found itself on a watch list. This behaviour will lead to Pakistan's own destruction," said the protester Dhananjay Shevilkar.
Pakistan on December 25 had issued a video of Jadhav in which he was purportedly seen thanking the Pakistan government for arranging a meeting with his wife and mother.
India has asserted that Jadhav appeared coerced and under considerable stress during the tightly-controlled interaction.
Jadhav was sentenced to death by a Pakistani military court on charges of espionage and terrorism in April, following which India moved the International Court of Justice in May. -- PTI
« Back to LIVE
TOP STORIES