BJP has no strategy in K'taka except communal clashes: Siddaramaiah
April 25, 2018 14:14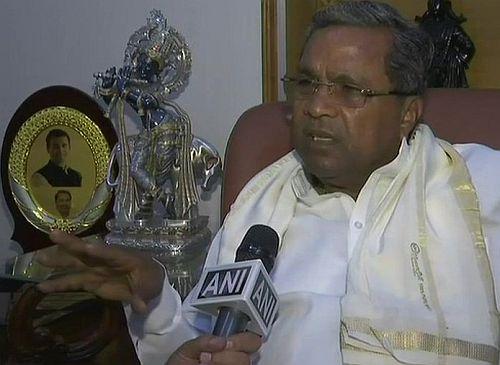 Karnataka Chief Minister Siddaramaiah upped the ante on Wednesday by dubbing Prime Minister Narendra Modi and UP CM Yogi Adityanath as 'north Indians', who have reduced BJP's CM face BS Yeddyurappa to a dummy in the battle for Karnataka.

In a tweet, the chief minister attacked the BJP for making the polls a fight between "outsider" north Indians versus local Kannadigas.

@BJP4Karnataka by waiting for North Indian imports like PM Modi, UPCM Adityanath is admiting they have no leaders in the state. They have reduced their CM face @BSYBJP to a dummy. PM may come & go.

In an interview to news agency ANI, Siddaramaiah rubbished exit polls' verdict saying there will be no hung assembly. "I am very clear about it. Therefore this question doesn't arise at all. I will 100% win in both Badami and Chamundeshwari. I don't have any strong opponent in these two places."


When asked about the possibility of a coalition, he said he hoped secular minded parties would come together and defeat communal forces.


He said BJP president Amit Shah was not a good strategist. "What strategy has he got in Karnataka? Except for communal clashes nothing else. The youth in Karnataka like Rahul Gandhi, his campaigning in the state has had a big impact on the youth. Victory in Karnataka will be a stepping stone for Congress for the 2019 Lok Sabha polls."

He said the people in Karnataka were happy with the development programmes he had introduced in the state. "I am just a symbolic head of the Govt. People are happy with us, we have fulfilled promises."


« Back to LIVE
TOP STORIES