Why fast when BJP disrupted Parliament for weeks, months: Shatrughan
April 12, 2018 22:32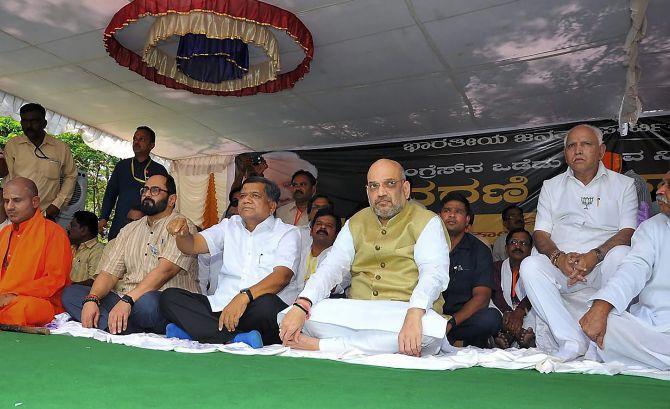 Disgruntled BJP leader Shatrughan Sinha today took a swipe at the day-long, nationwide fast observed by MPs of his party saying the BJP had also stalled parliamentary proceedings when it was in opposition.
In a series of tweets, apparently addressed to Prime Minister Narendra Modi whom he did not mention by name but addressed as "Sir", Sinha pointed out that while in the opposition, BJP members too had disrupted proceedings in Parliament on various issues for which the party was now criticising the opposition.
The actor-turned-politician, who represents Patna Sahib in the Lok Sabha, also questioned whether the opposition was "entirely responsible" for disruption of proceedings in both houses of the Parliament.
"What is reason sir behind this upwaas (fast). Is it for the Parliament not running smoothly. Is the opposition entirely responsible for it. Many a time in the past, when we were in the opposition, we did not let it work for days, weeks and months," the BJP national executive member tweeted.
"I recall once was because of Hon'ble Sukh Ram ji.....who we later invited to join our party, with due respect to him and his son Anil Sharma who is part of the Govt in Himachal," he tweeted referring to the ruckus created by the BJP - then in the opposition - over corruption scandals involving the then Communications minister in the Narasimha Rao government.
"Is it also true that some of our prominent leaders of today had made statements in the past, both inside and outside the Parliament that smooth functioning of the Parliament is the sole responsibility of the Govt. What is our stand today sir, let's clarify once and for all," he tweeted.
Sinha, who has been critical of his own party and the Modi government for quite sometime, however, sought to lighten up his outpourings by adding a dash of humour in a couple of previous tweets.
"Today on this auspicious day of official fasting, we may not be able to consume salt but the humour of this tweet has to be taken with a pinch of salt...Dear Sir, you and all the party people are going to be fasting today. Is it true. What are the reasons," read the first tweet on the topic.
This was followed by "Please enlighten us too, as I am in a foreign country at the moment with a time difference, surrounded by many NRIs (3 kinds - Non-Resident, Non-Reliable and Non Required Indians). I would like to know (a) if I too am supposed to fast (b) from what time to what time". -- PTI
« Back to LIVE
TOP STORIES