PM to observe fast today over Parliament washout
April 12, 2018 08:41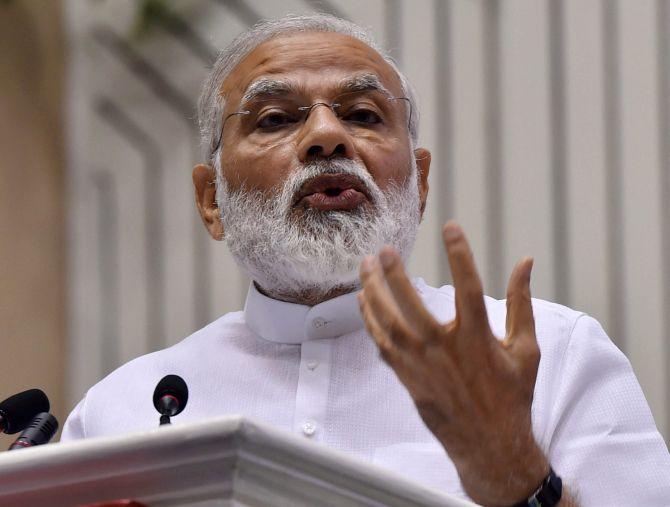 Prime Minister Narendra Modi will observe a day-long fast today in New Delhi, while top BJP leaders, including Union ministers, will fan out across the country for a similar protest to corner the opposition over the recent washout of the budget session of Parliament.
Addressing party MPs through an audio conference call ahead of the protest, Modi said the BJP leaders and its workers will observe the fast to "expose" those handful of people who "throttled" democracy by stalling Parliament proceedings during the budget session.
Besides Modi, Home Minister Rajnath Singh, Petroleum Minister Dharmendra Pradhan and Commerce Minister Suresh Prabhu will observe the fast in New Delhi.
As per the schedule prepared by the BJP for observing the fast across the country, Union Health Minister J P Nadda will be in Modi's constituency Varanasi, while Law Minister Ravi Shankar Prasad will travel to Patna for it, party sources said.
Many other ministers will travel to various places across the country to observe the fast. Defence Minister Nirmala Sitharaman will observe the fast in Chennai, Human Resource Development Minister Prakash Javdekar in Benguluru, Minister of State for Parliamentary Affairs Vijay Goel in Tamil Nadu and Minister of State for External Affairs MJ Akbar in Vidisha, Madhya Pradesh.
Tourism Minister KJ Alphons will observe the fast in Kerala.
Besides ministers, all the party MPs will also sit on a fast in their respective constituencies, while BJP chief Amit Shah will hold a sit-in at Hubli in poll-bound Karnataka tomorrow.
The ruling BJP has blamed the opposition, led by the Congress party, for the washout of the budget session. The session was the worst in terms of productivity in about a decade.
« Back to LIVE
TOP STORIES