People are more important than elections: Kamal Haasan to PM Modi
April 12, 2018 21:03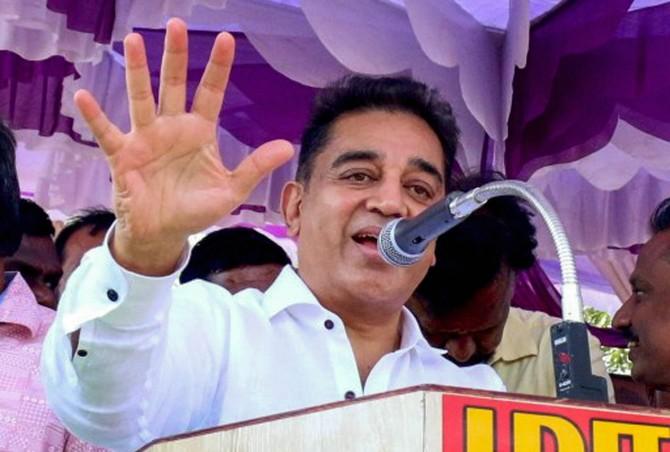 Makkal Needhi Maiam chief Kamal Haasan today urged Prime Minister Narendra Modi to immediately set up the Cauvery Management Board, saying it was his duty to prove wrong the notion that it was being delayed due to the assembly polls in Karnataka.
Setting up the CMB was also the Centre's constitutional duty, he said.
"You must be aware of the agitations that have gripped Tamil Nadu due to the injustice meted out," the actor-turned-politician said in a letter to Modi.
People were dismayed by the delay in setting up the CMB, Haasan said and added that they were holding protests "to get justice".
"The Supreme Court has already performed its constitutional role by delivering its judgment. It is now the turn of your government to perform its constitutional duty and implement the order," he said.
Recalling Modi's earlier stint as Gujarat chief minister, Haasan said he already had the experience of sharing water among four states through the Narmada Control Authority.
"Please do the needful as our prime minister and set up the CMB to ensure implementation of the apex court order in letter and spirit," Haasan said.
"All sections of people have started to believe that the delay (in forming CMB) is due to the ensuing election in Karnataka and your party's interest in it," he claimed.
"It is your duty as the prime minister of our country to prove this wrong by immediately acting as per the Supreme Court order," Haasan said.
The actor said he was sure that Modi would fulfil his duty towards the people and farmers of Tamil Nadu by setting up the CMB immediately.
In a video clip of little over one minute, Haasan made the same plea to Modi, saying, "People are more important than the elections as you well know".
« Back to LIVE
TOP STORIES