J&K govt will enact law for death penalty for rape of minors: Mehbooba
April 12, 2018 23:35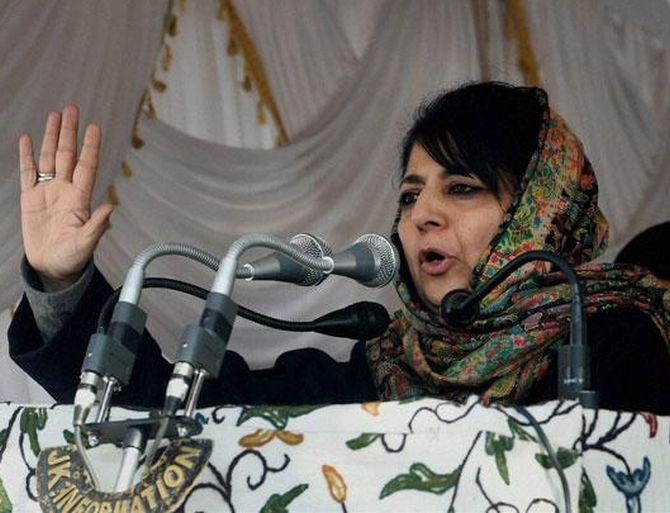 Jammu and Kashmir Chief Minister Mehbooba Mufti today said her government will enact a new law to make rape of minors punishable by death and asserted that justice will be delivered in the rape and murder case of an eight-year-old Bakerwal girl in Kathua district.
The rape and murder of the girl from the nomadic community has created a controversy after lawyers in Jammu called for a shutdown on Wednesday, demanding the case be handed over to the Central Bureau of Investigation.
"We will never ever let another child suffer in this way. We will bring a new law that will make the death penalty mandatory for those who rape minors, so that little girl's case becomes the last, Mehbooba wrote on Twitter.
"I want to assure the entire nation that I stand committed not just to ensure justice (to the girl) but also seek exemplary punishment for those responsible for a crime whose brutal savagery has shamed humanity, she said.
Earlier in the day, the chief minister said proper procedures were being followed in the case and investigations were on the fast track.
"The law will not be obstructed by the irresponsible actions & statements of a group of people. Proper procedures are being followed, investigations are on the fast track & justice will be delivered," Mehbooba tweeted.
On Monday, lawyers in Kathua had tried to prevent the crime branch from filing the chargesheet in the case.
The chargesheet has revealed some chilling details about how the girl was allegedly kidnapped, drugged, raped inside a place of worship before being killed.
Opposition National Conference leader Omar Abdullah lashed out at the chief minister for not taking any action against two BJP ministers who had attended a rally held in support of the persons accused in the case.
"What rubbish! They are HER ministers, not the Hon(ourable) PM's. The way for her to express her displeasure is to sack them in Jammu not come & leak her alleged displeasure in Delhi," Omar wrote on his Twitter handle. -- PTI
« Back to LIVE
TOP STORIES