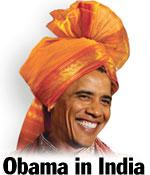 Even India's best friend, George W Bush, did not have the kind of vocabulary that Barack Obama had. If his protestations come true in November and Dr Manmohan Singh reciprocates, India-US relations will climb unprecedented heights, says T P Sreenivasan.
The last time I went to the Bukhara restaurant at the ITC Maurya in New Delhi, I saw that there were the 'Bill Clinton Platter' and the 'Chelsea Platter' on the menu, but no 'Hillary Platter' as Hillary had not accompanied the President during his historic visit in 2000.
They probably have a platter named after Hillary after her recent visit to India as the secretary of state, as President Obama discovered. His ambition to create an 'Obama Platter', announced at his speech at Hillary's reception, is legitimate and achievable.

President Obama has virtually created an 'Obama Platter' and handed it over to External Affairs Minister S M Krishna, when he broke protocol and barged into Hillary Clinton's reception and used words that no US President had ever used to create a vision of India-US relationship.
Even India's best friend, George W Bush, did not have the kind of vocabulary that Obama had. If his protestations come true in November and Prime Minister Manmohan Singh reciprocates them despite strong objections from the right and the left, India-US relations will climb unprecedented heights. The roller-coaster will reach such a high point that it will not be able to fall again.

'One of the defining partnerships of the 21st century', is how he characterised India-US relations when he announced that he will visit India in November to make 'history and progress that will be treasured by generations to come'. 'Our relations with India are at the highest of priorities for my administration and for me personally as president of the United States,' he said.

Further, 'when it comes to building a future of greater prosperity, opportunity and security for people there is no doubt I have to go to India, but even more I am proud to go to India,' 'And I look forward to the history that we will make together, the progress that will be treasured not only by this generation, but by future generations to come.'

Obama went on to say that India is 'a responsible global power' and said the 'unprecedented' US-India relationship 'will be a defining partnership of the 21st century' that will help shape the future of the world on issues such as the economy and security. 'We value our partnership... because of what we share and where we can go together,' he said, adding that the two countries share a vision of the future built on 'security and prosperity'.

Clearly the Obama platter is not just a collection of hot and spicy kebabs that the Bukhara provides, but more like a sweet platter that the best South Indian chef can produce at the Dakshin in other locations.
Not to be outwitted by her one time opponent, Hillary Clinton too used her own delectable recipe: 'Our two nations, great democracies, dynamic and interconnected economies and engines of progress, understand that our fortunes in this new century are increasingly linked.....Our people are more connected today than ever before, and we face complex global challenges that will be difficult to solve without the United States and India working together,' she said.

Politicians are known to go overboard with hyperbole, but what Under Secretary William Burns had to say at the Centre for Foreign Relations a couple of days before was obviously hard policy, which was approved by both Obama and Clinton. He spelt out in clear terms that the US was ready to go the extra mile to make India happy.

The sum total of the whole presentation is that the days of nostalgia for George Bush are over. The Bush legacy has been converted into a Clinton legacy that his wife will carry forward under Barack Obama's guidance.
The nuclear deal is alive and well and the US wishes to test out the multi-billion dollar nuclear business in India. The ball is very much in the Indian court and the US is willing to trust India to get the Nuclear Liability Bill passed so that the last hurdle on that front is removed.

On defence, the US is happy to do more exercises with India than any other country in the world and is willing to help India modernise its defence forces. On Afghanistan, the US would like to integrate the 'good' Taliban into Afghan society once it gives up terrorism and violence, but is willing to accept the Indian presence in Afghanistan not only for the purposes of reconstruction but also to fight terrorism. The US is willing to ignore Pakistani sensitivities in this regard.

India is now a partner in fighting terror as our cooperation in this area has gained strength after 26/11. There is no reference to the complicity of Pakistan, but the emphasis on bilateral cooperation signals increased importance of India in the war against terror. The Indian team in Chicago has already begun to interrogate David Headley.
The US has no intention to outsource the problems of South Asia to China, as India had presumed by some of the joint pronouncements of the US and China in the past. India is expected to resolve the problems in Bangladesh, Nepal and Sri Lanka as it befits a regional power.
If India worries that it is being treated as a mere regional power, the US is willing to discuss global issues, even the Middle East, with India. As for the permanent membership of the UN Security Council, the US is willing to consider India's claim. No further commitment can be given since the US is not sure what course the inter-governmental negotiations will take in New York.

Technology denial and its last vestige, the Entity List, will also receive attention. But this has to await the big visit in November, when Obama can make a gesture of removing sanctions imposed on a country the US has pledged to raise to global status.

Issues like education, science and technology, cyber and agriculture are also on the priority list and the US has no hesitation in moving ahead with several projects.

If Minister Krishna carried a wish list with him, he may have put green marks against each item, given the effusive nature of the US response. Whether this is a mere curtain raiser for the November visit or a change of heart in view of India becoming a non-permanent member of the UN Security Council for the next two years, only time will tell. The minister has got quite a lot on a platter, which the government has to digest.

Back home, there will be much criticism of the Dhritarashtra embrace into which Minister Krishna walked into. It will be hard to sell the platter to the Opposition. But this time, the complaint will not be that he came back empty handed, but that what he has got is hard to digest.
T P Sreenivasan, a former Indian ambassador, is currently a member of the National Security Board.