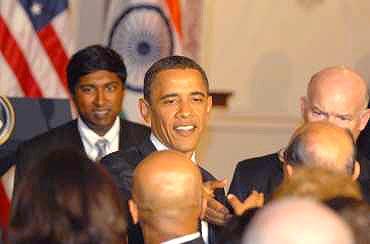 While the United States' endorsement of India's bid for a permanent seat in the United Nations Security Council anytime soon is a stretch, what is sure is that US President Barack Obama is visiting India in November and the confirmation came from the protagonist himself.
Speaking to nearly 500 guests at the reception hosted by Secretary of State Hillary Clinton for External Affairs Minister S M Krishna and the visiting India delegation at the Benjamin Franklin Room -- the largest of the diplomatic reception rooms at the State Department -- Obama said, "Michelle and I were honored to welcome Prime Minister Manmohan Singh and Mrs Gursharan Kaur to the White House for the first official state visit of my presidency."
"It was a state visit that demonstrated that our relations with India are at the highest of priorities of my administration, and for me personally as President of the United States," he said.
Obama said, "During that visit, the prime minister graciously invited me and my family to visit India this year, and I happily accepted. And as I confirmed to him when we spoke last week, I am delighted to announce tonight that I plan to visit in early November." Administration officials said Obama's visit has been tentatively scheduled between November 7 and November 10.
(While confirming that First Lady Michelle Obama would definitely accompany him, officials said it was still not decided if their two daughters, Malia and Sashi would join them for the trip since they would be back in school after the summer vacation).
"I look forward to advancing our partnership, to experiencing all that India and its people and its incredible ancient culture have to offer -- and I intend to create an 'Obama Platter,'" he said to peals of laughter, alluding to the Hillary Platter, which a Delhi restaurant added to its menu after the US Secretary of State's visit.
Among the Indian American guests were some of the community's prominent activists like Swadesh Chatterjee, Ram Narayan, Sanjay Puri, Nishith Acharya, Dr Rajwant Singh, Anju Bhargava, and close friend of the Clintons, Sant Chatwal.
There were also leading entrepreneurs like Farooq Kathwari, chairman and CEO of Ethan Allen, and Ben Chikkaswamy, president of Beltsville Industries Group, Inc, and some of the young Indian American public servants holding senior positions in the Obama administration, including Aneesh Goel of the National Security Council, Vivek Kundra, chief information officer in the White House, and Farah Pandith, Obama's special representative to Muslim communities worldwide, and Atul Keshpa, director office of India, Nepal, Sri Lanka, Bangladesh, Maldives, and Bhutan Affairs.
There were also a plethora of South Asia experts and think tank heads, including Stephen Cohen, Teresita and Howard Schaffer, Ashley Tellis, Evan Feigenbaum, Deepa Ollapally, Gautam Adhikari, and former Indian ambassador to the US and foreign secretary Lalit Mansingh, and erstwhile foreign secretary Kawal Sibal -- both in town to participate in a major conference at Brookings Institution on the US-India Strategic Dialogue.
There were also the heads of the Confederation of Indian Industry, Tarun Das and Kiran Pasricha and Director General of the Federation of Indian Chambers of Commerce and Industry Amit Mitra, and the Indian head of Google Shailesh Rao.
Among the guests were also Pakistan's Ambassador to the US Husain Haqqani and Sri Lanka's envoy to Washington Jaliya Wickramasuriya.
The guests, who were ushered in an hour before the arrival of Clinton, Krishna and Obama, had the opportunity to not only enjoy champagne and a variety of hors d'oeuvres but also see some of the collection of fine art, decorative art objects and early American craftsmanship, from the 18th and 19th century, which are housed in the Benjamin Franklin Room on the 8th floor and other diplomatic rooms on the same floor.
Among some of these treasures was the desk believed to be used by John Quincy Adams to draft the Declaration of Independence and a portrait of Benjamin Franklin.
Image: Obama with Indian American delegates | Photograph: Paresh Gandhi