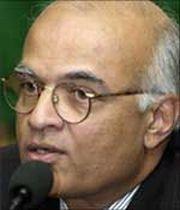 Prime Minister Manmohan Singh has made a most thoughtful decision by appointing Shiv Shankar Menon as the next National Security Advisor. The appointment signifies several things.
 
After an interlude of some five years, a former career diplomat has been brought in to handle the NSA's job. This is in the fitness of things.
 
In the contemporary situation, security becomes an important dimension to foreign policy and yet it is far from the dominating template. Indeed, security itself has become multi-dimensional in a globalised world, and it is through diplomatic engagement that the various templates can be adequately handled.
 
Well-honed diplomatic skills are required to chariot an India that is assuming greater profile and responsibility -- and sophistication -- on the world stage.
 
Unfortunately, a creeping 'militarisation' of India's foreign-policy making has been happening in the recent years. Why this happened -- especially so in the 'post-J N Dixit phase' -- can be attributed to several factors in institutional, systemic, and even personal terms.
 
Maybe all this is a sign of our times when the civilian leadership deliberately chooses to be permissive. But the great tradition that was laid down by Jawaharlal Nehru and Krishna Menon made all the difference to our political economy.  
 
Suffice it to say, this sort of 'militarisation' has been draining our foreign policy of its intellectual content, apart from complicating India's external relations.
 
The locus of foreign policy-making has shifted to an unnatural degree to the Prime Minister's Office in the recent years. This happened in the past when influential personalities in the PMO dominated the proceedings due to their proximity to the prime minister at a personal level. But the gravitation is getting formalised.
 
India's cabinet system of decision-making is different form America's. The NSA's charter of duties in the American system includes just about everything that the US president gets involved in -- be it healthcare legislation or Israel's West Bank settlements. In short, he is the 'conveyor-belt' of the president in ensuring his cabinet pulls in one direction.
 
Any weakening of the ministry of external affairs results in wastage of national talent. There is always scope to improve the caliber of the foreign service (as of any wing of the government), but that is no reflection on the pool of professional talent that the IFS represents.
 
Menon is a great choice to correct the anomaly and to restore the equilibrium. He is a staunch believer in the system and in optimally working the system.
 
Menon brings into the job an exceptional level of professional expertise in neighbourhood diplomacy. Perhaps, surveying the history of the Indian Foreign Service, no Indian diplomat since J N Dixit has had as much rich and varied experience in dealing with India's neighbourhood.
 
China, Nepal, Bhutan, Sri Lanka and Pakistan -- they were all Menon's 'beats' at one time or another. The surge of China and 'peaceful co-existence' with Pakistan are surely the two major challenges to Indian foreign policy in the short term.
 
Equally, what lies ahead in the post-election phase in Sri Lanka or how Indian diplomacy gets accustomed to the historic changes in Nepal fall within the first circle of India's foreign policy. 
 
One would like to imagine that the prime minister has spoken his mind in choosing Menon as the NSA at a time when poor or indifferent relations with neighbouring countries has become the Achilles' heel in India's foreign policy.
 
South Asia stands out when the spirit of 'new regionalism' is catching up almost everywhere in the world.
 
Hopefully, Bangladesh Prime Minister Sheikh Hasina's recent visit to New Delhi and External Affairs Minister S M Krishna's current visit to Kathmandu will underscore a new thinking, that India needs a paradigm shift in relations with its neighbours.
 
With Menon's appointment, the mock-epic battle between the PMO and North Block, as to who lords over internal security issues, will hopefully come to an end.
 
There cannot be two czars in one empire. No doubt, an NSA should not be overburdened with internal security matters, which ought to be included in the charter of duties of the home ministry, especially when it is headed by an assertive political figure of high standing and vast experience in governance.
 
Nor is the NSA the ideal man to do firefighting when, say, Telengana politicians become militant or if the Naxalites stage a daring attack.
 
Of course, a degree of overlapping between internal security and India's external relations becomes inevitable. But the NSA ought to come in at a high level of policymaking to advise the prime minister rather than as the day-to-day supervisor of security agencies.
 
India's security challenges are primarily with regard to internal security. They demand the attention of a fulltime internal security advisor in the PMO.
 
It is time, therefore, that we revert to the arrangement in 2004 when J N Dixit and M K Narayanan were appointed as the NSA and the advisor for dealing with internal security respectively.
 
Of course, the political establishment presupposed that the two incumbents worked in a collegial spirit.
 
Menon is a terrific choice in this respect, too. He has a highly focused mind and an affable temperament and wonderful human qualities to work with team spirit. He is not known to squander his time or energy by indulging in wasteful turf battles. 
 Nor is he, given his erudition, the sort of personality who would have qualms about the bottom-line in a functioning democracy, that the absolute prerogative to have the final word in policymaking at all times does and should unquestionably belong to the elected political leadership, no matter how well-versed he might be in issues such as, say, climate change.
 
That is precisely what is expected of an NSA in India's cabinet system of government.
 
Finally, does Menon's appointment point toward any shift in the foreign policy? The answer will be 'yes' and 'no'. No doubt, the broad orientations of the foreign policy will continue, although with the unavoidable course corrections from time to time in a volatile world climate. They bear the imprimatur of the prime minister. If his rooted world-view faces any real threat today, it can only come from the polycentric world order that is taking shape. 
However, Menon has somehow come to symbolise the 'Sharm-el-Sheikh' line of India's neighbourhood policy -- unlike his hard-line predecessor who instinctively trusts crisis management to problem-solving. A 'greening' of the national security establishment is overdue and it will be in sync with the spirit of our times. Thus, Menon's induction brings greater harmony into the prime minister's foreign policy team.
The big question remains: Is the Indian political establishment finally getting its toes wet while inching toward transition to a new generation of leadership? Narayanan has given way to 'GenNext' in India's foreign and security policy establishment.
 
(The writer is a former diplomat)
Image: National Security Advisor Shiv Shankar Menon