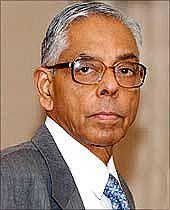 National Security Adviser M K Narayanan is being appointed Governor of West Bengal and former Union Home Minister Shivraj Patil will take over as the Governor of Punjab as the Centre has finalised a list of five new Governors in various states.
Former Defence Secretary Shekhar Dutt has been chosen for Chhattisgarh,  from where E S L Narasimhan moves to Andhra Pradesh Raj Bhavan, highly-placed sources said.
Senior Congress leader Mohsina Kidwai will be the new Governor of Jharkhand from where K Sankaranarayan is being shifted to Maharashtra.
Himachal Pradesh Governor Prabha Rau is being moved to Rajasthan, and will be replaced by senior Congress leader from Gujarat and former Union minister Urmilaben Patel.
The names of Governors, which were cleared at a meeting between Congress President Sonia Gandhi and Prime Minister Manmohan Singh on Friday, have been forwarded to the Rashtrapati Bhavan by the Union home ministry.
The appointment of 75-year-old Narayanan, a former Intelligence Bureau chief, creates a vacancy in the NSA's post, for which former foreign secretaries Shyam Saran and Shivshankar Menon are believed to be the front-runners.
Image: MK Narayanan