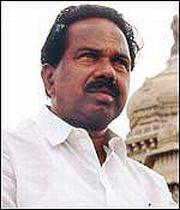 Did you know that Union Law Minister Veerappa Moily also had a miraculous escape when his plane also veered off the runway in Mangalore and rolled down a cliff?
On August 19, 1981 an Avro aircraft from Bangalore landed at the airport despite not getting clearance from the Air Traffic Control due to poor visibility. The plane veered off the runway (which is on a hill) and rolled down the valley. Fortunately, huge boulders blocked the plane and prevented it from plunging into 300-feet-deep valley. The engine caught fire but no casualties were reported and all the passengers escaped with minor injuries. Moily, who was then Karnataka's finance minister, managed to escape by jumping out of the aircraft and running up the hill.
The aircraft was not removed from the side of the hill for months and it became a tourist an attraction for the locals who frequented the hill or a road nearby to have a look at the aircraft. It was finally sold as scrap.
Ironically, Moily recalled the incident during the inauguration of the new terminal at Mangalore just last week.