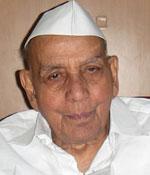 Those who lived through Indira Gandhi's Emergency vividly remember it as the darkest period of Indian democracy when the country virtually became a dictatorship, ironically under a woman whose father Jawaharlal Nehru laid the foundations of that democratic system.
Among those who witnessed those times closely was Mohan Dharia who along with Chandrashekhar, later India's prime minister, and Krishna Kant, later India's vice-president, were known as the 'Young Turks' in the Congress party.
Dharia was imprisoned for 17 months in Nashik jail during the Emergency and proudly says he was the only minister to resign from Indira Gandhi's government in 1975, to protest against her policies.
Dharia, 85, is president of Vanarai, a trust focusing on integrated rural development. At his office in Pune, he spoke to Rediff.com's Archana Masih about those tumultuous days and Indira's greatest blunder. A fascinating eyewitness to history, part of our series The Emergency, 35 Years On:
Looking back to those days, could you please give us a sense of the situation as it prevailed in the run-up to June 25, 1975, the day Indira Gandhi imposed the Emergency on the premise that India's security was threatened due to internal disturbances?
The way the Emergency was imposed and the whole democratic system put behind bars was a great blunder committed by Mrs Gandhi.
The students of Bihar, followed by Gujarat, raised their voice against corruption. They demanded that the education system be changed to make every student employable. They approached Jayaprakash Narayan, a great leader, to lead their movement.
The demand of the students was consistent with the 1971 election manifesto of the Congress party and naturally it was binding on the party to implement it.
I insisted with Mrs Gandhi to have a dialogue with Jayaprakashji. He said if Mrs Gandhi concedes to these demands I shall postpone the agitation.
And Mrs Gandhi was unwilling to have a dialogue with JP...
Mrs Gandhi was not prepared for this dialogue with JP at all! The feeling was created that he wanted to dislodge her and become prime minister. This was spread particularly by the Communists by her side.
But this was totally wrong because when Jawaharlal Nehru was prime minister, he had invited JP to be the deputy prime minister in 1954. Had it been his desire to be PM he would have done that long time ago.
JP was a different kind of person, he was not interested in dislodging the government, he wanted it to function according to the manifesto or promises made to the people. Chandrashekhar and myself insisted upon the politics of commitment, not of convenience so naturally my demands of a dialogue was not agreed.
After serving as a minister in Indira Gandhi's government, did you resign from her government because of her refusal to hold a dialogue with JP?
I was served a notice in Ahmedabad. At that meeting at the Gandhi statue I declared that if demanding a dialogue in a democracy was a crime, then I was prepared to commit that crime a thousand times.
I submitted my resignation directly to the President which was an embarrassing situation because usually the resignation is given to the prime minister.
The resignation was accepted but Mrs Gandhi made it look as if I was dismissed from the government rather than having resigned.
I protested and asked the Speaker that since I had resigned I should be given the opportunity to make my statement on the floor of the House.
The Speaker gave a ruling in my favour. He said according to the records Mr Dharia has resigned and has every right to make a statement.
When I look back I think it was possible to avoid the Emergency and find a solution.
Dialogue is the soul of democracy which should not be denied, but it was by Mrs Gandhi.
What was the immediate reason for Indira Gandhi to resort to such a drastic measure?
The Gujarat election result of June 12, 1975 went against Mrs Gandhi and on the same day the Allahabad high court gave its ruling disqualifying Mrs Gandhi as MP (for electoral malpractices in the 1971 election).
This created a situation where she couldn't stay in power. She imposed the Emergency only to remain in power. Had she dome it due to economic reasons, the people would have even appreciated her, but it was purely for personal political reasons.
Power went to her head after the victory in the Bangladesh war (in 1971). People including Atal Bihari Vajpayee described her as Durgamata of India.
You were imprisoned during the Emergency, how long were you in jail?
Several leaders were imprisoned and we were in jail for 17, 19 months. I was in the Nashik jail.
My wife challenged my arrest under MISA (Maintenance of Internal Security Act). Justice Shah was on the bench but before my case came for hearing, MISA was amended and according to that amendment those arrested had no right to go to court.
This was also challenged, but the then Supreme Court decided that this amendment was consistent with our Constitution. All the writ petitions in the country were dismissed. This is how dictatorship prevailed in the country.
Those days are almost universally described as the darkest days in the Indian democracy, what were they like?
The atrocities committed during that time had no limitations, the way bulldozers went around Karol Bagh (in New Delhi) crushing hundreds of shops, widespread arrests -- some Congressmen were also arrested (laughs).
In a dictatorship there is nothing like the rule of law. After the elections when the Janata Party government came to power she conceded that she should have listened to my advice of having a dialogue. It is because of the Janata Party that democracy survived in the country.
The Janata Party, however, was not united because several parties had come together to form it. They had their own ambitions and therefore the government failed in 1979.
If JP had not passed away in 1979, do you think the Janata Party would have held together and things could have been very different?
Of course, if his health had been good he would have saved the situation because he was the master.
He was the master of the people, let aside the government. The slogan was Aandhere mein ek prakash Jayaprakash Jayaprakash (Jayaprakash is the lone ray of light in the darkness).
Unfortunately, he was on dialysis and was virtually a dead person. It was also unfortunate that the oath taken (by the Janata Party government) at the samadhi of Mahatma Gandhi of working together against corruption and bringing good government didn't happen.
Morarji Desai was the prime minister (in the Janata government) and his son indulged in corruption from Morarjibhai's house -- all this had a very bad impact on my mind and I decided to opt for some constructive activity and that is what gave birth to Vanarai.
Part 2 of the interview: Why Indira Gandhi withdrew the Emergency
Image: Mohan Dharia. Photograph: Archana Masih.
ALSO READ: What Indira's Emergency proved for India
Exclusive: L K Advani on the Emergency
The Emergency, India's darkest hour