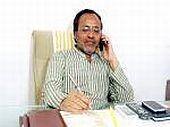 It is probably the first time in India that a minister in charge of the important home portfolio is on the run.
Amit Shah, Gujarat's minister of state for home, is avoiding a summons issued by the Central Bureau of Investigation in connection with the Sohrabuddin fake encounter case, where Shah has been accused of murder, extortion, kidnapping and criminal conspiracy.
Arjun Modhwadia, the spokesperson for the Opposition Congress party in Gujarat, says this is not the time to demand Shah's resignation, but to ensure that he is arrested.
In this interaction with Rediff.com's Vicky Nanjappa, Modhwadia also feels it is end game for Chief Minister Narendra Modi.
What Modhwadia said:
The case was initially with the Gujarat police's CID (Crime Investigation Department). It was the CID which informed the Supreme Court that Sohrabuddin's encounter was fake.
In a sworn affidavit to the Supreme Court the CID also stated that Sohrabuddin's wife Kausarbi was missing.
In the light of these revelations by the CID, the Supreme Court felt it needed to know about the larger conspiracy in the case.
What I am pointing out is that it was the Gujarat CID which pointed out these facts at a time when the CBI was not involved. It was pretty clear what the entire case was all about.
In the entire history of Independent India, it is the first and most peculiar case in which the custodian of the law and the judiciary, the home minister of a state, is absconding both from the law enforcing agencies and the judiciary.
People keep asking me about the man's resignation. I would like to say here that resignation is a very minor issue. It was expected of him to uphold the law. Resignation is not a big issue, but the fact that he is absconding is.
This man is not fit to be free.
I find it shocking that no action has been taken by the state government against him. I find it shocking that he continues to be the home minister of Gujarat.
The Bharatiya Janata Party has a lot to ponder over and also to answer in this case.
This case is a turning point for Chief Minister Narendra Modi. I would say it is the last stroke for him. He would have realised that the violent tactics adopted by him have come to an end.
Mark my words, Modi or the BJP will never ever win an election after this in Gujarat.