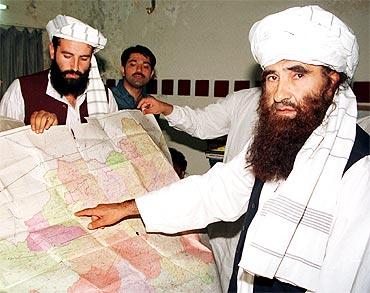 The Haqqani Network -- the 'good Taliban' for Pakistan and the 'bad Taliban' for the Americans and its allies -- is considered to be one of the most dangerous terror organisations in the world. Tahir Ali gives an insight:
The Haqqani network, having more than 12,000 well-trained fighters, including a good number of suicide bombers, is well equipped with sophisticated weapons of guerilla warfare.
Previously the headquarters of the Haqqani network was located at Dande Darpakhel village in North Waziristan agency, but after a series of US drone attacks, it has been moved to some other part of the agency.
The Haqqani network is very strong in Khost, Paktika, Paktia, Logar and Ghazni provinces of Afghanistan, while in Pakistan, North Waziristan is considered to be its stronghold.
Apart from North Waziristan, the network also has many militants in South Waziristan, Bajuar, Mehmand, Kurram and some of the settled areas like Bannu, Lakki Marwat and Tank of Pakistan.
The head of the Haqqani Network is Maulavi Jalaluddin Haqqani. The veteran jihadist, in his early 60s, belongs to Zadran tribe that lives on both sides of the Durand line and is included in Taliban main shura.
He has married twice; one of his wives belonged to Zadran tribe in Khost, who was killed in September 2008 in a US drone attack, while his second wife is an Arab woman.
During the same attack where his wife was killed, Haqqani also lost his sister, sister-in-law and eight of his grandchildren. Haqqani has 13 sons, out of which one Mohammed was killed during a US drone attack in North Waziristan on February 19.
In July 2008, Muhammad Omer Haqqani, his other son, was also killed during fighting at Satto Kandao area in Paktika province. Amongst his 11 remaining sons, Sirajuddin Haqqani, known as Khalifa, is more popular amongst the militants while Badruddin, Naseeruddin and Baseeruddin are commanders at a lower level.
Maulvi Jalaluddin rose to prominence during Soviet occupation of Afghanistan. He remained affiliated with Maulvi Yunas Khales Hezb-e Islami and fought the Soviets in Paktia and Paktika provinces.
The defeat of communist's forces in Khost in early nineties is considered to be a 'big success' in his career as jihadi. During this period he became close to the Arab Mujahedeen and developed good relations with Al Qaeda chief Osama bin Laden as well.
Jalaluddin Haqqani is popular in North Waziristan, as he has spent a good period of his life in Dandi Darpakhel village, where he also established a seminary in 1980. Almost all students of this Madrassa are staunch followers of Haqqani.
In 1995, when the Taliban captured Kabul, Haqqani was initially not affiliated with them. But soon he joined them and became minister for tribal affairs in the Mullah Omar regime.
After the 9/11 attacks when the US toppled the Taliban regime, Haqqani went into hiding in the border areas of Pakistan-Afghanistan and started preparations for fighting against the US-led North Atlantic Treaty Orgnaistaion forces; very soon he emerged as the most dangerous enemy for the coalition forces.
Omar appointed him as commander-in-chief of the Taliban armed forces, as it was time that Al Qaeda was on the run. Haqqani not only provided shelter to the Arabs and foreigners on both sides of the border, but also presented Al Qaeda with an opportunity to regroup in areas in his control .
Though Dadullah Lung, a dreaded Taliban commander, introduced the training and indoctrination of suicide bombers in Afghanistan, but it was Haqqani network which further promoted the trend in the country.
Jalaluddin Haqqani appeared in propaganda movies of the Taliban and talked about jihad and suicide bombing. The Haqqani group specialises in suicide car bombings.
Though the network is behind a large number of attacks in Afghanistan, but two major attacks that go to the group's account is attack on the Indian embassy and a five-star hotel in Kabul.
Jalaluddin Haqqani is old now, so the operational command of the network is in the hands of his elder son Sirajuddin Haqqani.
Sirajuddin, 33, studied at his father's seminary in Dandi Darpakhel Waziristan. Sirajuddin is considered to be a skilled militant commander -- he is included in the list of most wanted people by the US.
After Sirajuddin Haqqani, another important commander of the Haqqani network is Maulvi Sangeen Zadran. Currently he is the operational head of Taliban fighters in Khost, Paktia and Paktika provinces of Afghanistan; but also has good relations with the Pakistani Taliban -- both with the Tehrike Taliban Pakistan and Hafiz Gul Bahadar, the head of all Taliban in North Waziristan.
He frequently visits Waziristan; TTP chief Hakimullah Mehsud started his career under Sangeen's commandership in Paktika.
Haqqani network has influence over all Pakistani militants, whether they are 'good' or 'bad,' all enjoy good relations with it.
The Haqqani network is financially very strong and the main financers are Arabs and Al Qaeda. The network also financially supported former TTP chief Baitullah Mehsud and, according to Taliban sources, TTP received some Rs 20 million per month. The current leadership of the TTP are also completely under the control of the Haqqani network.
Jalaluddin Haqqani remained loyal to Pakistan; during Afghan-Russia war he was very close to the Inter-Services Intelligence. Pakistan always avoided taking on the Haqqani network; not only is the group is very strong and dangerous, but also it could serve Pakistani interests in future -- in case the Taliban returns to power in Afghanistan.
The US and the rest of the world are pressurising Pakistan to take on the Haqqani network, but Pakistan is resisting taking action..
Image: Jalaluddin Haqqani | Photograph: Reuters