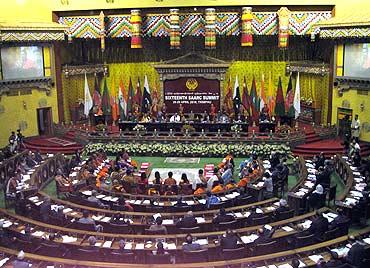 There is a lot that the SAARC can do if only its two biggest countries, India and Pakistan, leave their disputes back home. Sheela Bhatt gauges the mood at the opening day of the regional summit in Thimphu, Bhutan.
The South Asian Association for Regional Cooperation summit was inaugurated on Wednesday in the Bhutanese capital Thimphu without many hopes of concrete results that would trigger the change in the beleaguered South Asian region.
Afghanistan, India, Pakistan, Nepal, Bangladesh, Bhutan, Sri Lanka and Maldives are SAARC members but they are unable to develop a consensus on a range of issues. America and China are lurking in the background here. They have observer status along with the European Union, Iran, Japan, Korea and Mauritius. Australia and Myanmar have just joined as observers.
The audience could register well when US Assistant Secretary of State Robert Blake said in his speech that US has $4.4 billion worth of bilateral projects with SAARC countries. America's advice to SAARC was that more trade 'makes sense'. But, that's not easy. The serious differences over issues of regional security, terrorism and climate change are impacting regional trade.
There was also the usual forgettable rhetoric -- announcements of new outfits related to climate change and development funds and some disbursements of scholarships -- giving the illusion that things are somewhat working.
Before the summit started, there were ceremonies which depicted Bhutanese culture that stirred the heart, but inside the Grand Assembly Hall of Bhutan, except for Maldives President Mohammed Nasheed's no-nonsense remark about India and Pakistan bringing their spat at SAARC, nothing could stir the audience.
There was no dynamism or focus at the summit despite the long speeches. Rather, Bhutan's Prime Minister Jigmy Y Thinley put it bluntly that some 200 meetings take place every year amongst SAARC countries but these meetings are 'not matched by results'.
In his inaugural address he was quite straightforward. He said, "SAARC is losing focus."  
Prime Minister Manmohan Singh illustrated the reality appropriately. He said, "In looking back at these two-and-a-half decades, we can claim the glass is half full, and compliment ourselves, or, we can admit the glass is half empty and challenge ourselves." Then, on more realistic note, he said, "I believe we should challenge ourselves by acknowledging that the glass of regional cooperation, regional development and regional integration is half empty."
He also admitted to the fundamental problem when he said, "We have created institutions for regional cooperation, but we have not yet empowered them adequately to enable them to be more proactive."
A large portion of blame has been transferred to India and Pakistan, who have been stealing the show by their discordant notes and media circus every time SAARC leaders meet. However, this time there is a stronger realisation amongst Maldives, Nepal, Sri Lanka and Bangladesh that India and Pakistan should 'compartmentalise' their issues, put them aside and come to the SAARC summit, so that the idea of the regional grouping becomes workable. Nasheed, who spoke extempore, said he hoped that the "conversation will lead to greater dialogue between India and Pakistan."
A day before his bold remarks telling India and Pakistan to compartmentalise issues, Nasheed spoke to select journalists, including rediff.com. He elaborated well on the dominance of Indo-Pakistan tension at SAARC meetings. He said, "SAARC really should move forward. There is so much real work, economic work that is necessary for SAARC members. We all need development. We all need to increase our living standards. We now understand that it is possible to achieve this in South Asia. In my mind, it is in the interest of all to compartmentalise our problems, specially, India and Pakistan and their border and territorial issues. If we can put that aside -- recognising that these are difficulties and these are the issues that has to be understood separately --  we should move forward on important issues related to SAARC."
Nasheed thinks things would work better because this is the first SAARC summit where all leaders are democratically elected. He said, "I think we should be able to be answerable back home. We can't be continuously talking and not delivering simply because there are issues amongst these two countries. Of course, they -- India and Pakistan -- are big countries. They are the biggest in the family of SAARC."
Nasheed also hinted that Maldives' position and the issues that the small island nation has are not well matched with the Copenhagen accord.
He said worriedly, "I think we SAARC countries need more conversations to have a common position on climate change. Maldives has a number of difficulties in agreeing to any understanding where global temperature is allowed to rise above 1.5 degrees. In SAARC, we have to ensure that our position is also guaranteed and safeguarded. SAARC needs a different position. Maldives cannot agree to any such position that at the end of the day turns out to be our death warrant."
There is world beyond SAARC and that dictates the SAARC agenda.
India looks at the growing Chinese influence in Nepal, Sri Lanka and Bangladesh. Pakistan and Afghanistan are altogether a different story. Bhutan is the only country which is not using the China card against India, which supports almost two-third of its annual budget.
Nasheed too is well disposed towards India. The Maldives is a strategically located country in which China has been showing keen interest lately. Nasheed is worried about the growing influence of Pakistan-based terror outfit Lashkar-e-Tayiba in his country. He wants to co-operate with India on issues of terrorism but the Maldives is passing through a transformation after Nasheed's democratic regime came to power.
From Thimphu, Nasheed is going to China. (Unless India helps, he will fly to Kathmandu to Thailand to Singapore to Shanghai!)
The Maldives' major income of almost a billion dollars is from tourism mainly due to its magical beaches. Indian tourists have been outnumbered by Chinese tourists in recent times.
China is opening a bank in the Maldives and is also showing interest in deepening relations with Nasheed. There were three high-level Chinese visits recently to the Maldives. (Recently Rahul Gandhi had gone to Maldives to enjoy night diving and fishing.)
All these realities and issues of regional security also play a role in making the road ahead for SAARC difficult. During US President Barack Obama's visit to China, America has proposed sub-regional talks with China that will also concern India. In view of China and US's strategic goals in the region, the pressure on SAARC countries is immense.  
All members of SAARC have genuine problems due to global warming. It directly affects the poor people and their countries' economy. Bangladesh's Shaikh Haseena knows that if global warming is not arrested, more than 2.5 crore Bangladeshis would lose their land and they would overflow into India. The Maldives is worried that one day it might have to find a new homeland for its three lakh people. (Already some island countries like Kiribati are trying to buy land in Australia). Bhutan's PM said that his country is so ecologically fragile that the impact of climate change is visibly alarming. He said snowfall are rare, glaciers are releasing high volumes of water and winters are warmer. He said, "Himalayan cyclones in the last two years were on a scale beyond living memory."
One can imagine the tremendous scope for SAARC if one takes these words seriously. But it is so sad that at the end of the day in Thimphu, the hot topic was about Thursday's scheduled meeting between India and Pakistan. Everyone is bored of India and Pakistan's talks, talks about talks and breaking down of talks.
Image: The Grand Assembly Hall in Thimphu on the opening day of the summit | Photograph: Sheela Bhatt