A memorial service for Nobel Laureate Norman Borlaug will be held at the Texas A&M University in Texas today, October 6.
Dr M S Swaminathan, who worked closely with Dr Borlaug on India's Green Revolution, will be one of the main speakers at the service.
In this first person reminiscence, told to rediff.com's Shobha Warrier, Dr Swaminathan recalls how Dr Borlaug and he transformed Indian agriculture.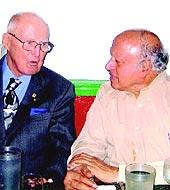 I first met Dr Borlaug in July 1953 at the University of Wisconsin-Madison. He gave a speech about a new method of controlling rust disease in wheat. He had a very interesting idea of how to manage it. After that, we had some correspondence.
From 1955-1956 onwards, he started working on the semi-dwarf wheat variety with a gene from Japan called Norin 10 dwarfing gene. The same gene was worked on by one Orville Vogel in Washington, DC. Dr Vogel was working on winter wheat and Dr Borlaug was working on spring wheat. Spring wheat is the one which can be grown under our conditions.
In 1959-1960, he developed a few varieties with the semi-dwarf gene and he introduced them at the International Wheat Rust Nursery. It was a trial coordinated by the US department of Agriculture. The trail was very impressive.
In 1960, I was the head of the wheat programme in India. I sent a letter to Dr B P Paul, then the director of the Indian Agricultural Research Institute, saying that there is a great opportunity now and we should invite Dr Borlaug, requesting him to send his materials to us.
There was a lot of bureaucracy those days, so one could not write directly to a foreigner. So I had to go through the proper channels. But I had regular informal correspondence with Dr Borlaug, and he said, 'Let there be a formal invitation and then I will come'.
Dr Paul sent the request to the ministry of agriculture. Finally, by the end of 1962, they sent him an invitation. He wrote to me that he would come just before the wheat harvest.
He came to India in 1963 in March, as it is a good month to see wheat. He was here from March 1 to 25. In a car, we went to all the wheat-growing areas like Ludhiana in Punjab, Kanpur, Pant Nagar in Uttar Pradesh, Bihar, Madhya Pradesh. For 20 days, we were continuously travelling, spending each night in a village, studying the crop in each village. We came back to Delhi on March 24.
March 25 was his birthday, and my wife had arranged Mexican music and food with the Mexican embassy's assistance as a birthday present. The party was a pleasant surprise to him. He didn't remember it was his birthday.
He had already given his material two years earlier to Pakistan, so he said he would go to Pakistani Punjab to see the results and then send the materials to us. On the night of March 25, I put him on a flight to Lahore. After ten days, he wrote to me that he was very happy that his materials were doing very well in Pakistan.
He sent us a set in September 1963 because our sowing season starts in late October. It came on time. I had requested him to send us one quintal of seeds of all varieties. He sent us four varieties of seeds, and when the seeds came, I divided them into six parts to be sent to Ludhiana, Kanpur, Haryana, Pusa, Pant Nagar, and one portion for Delhi.
George Varghese, one of my students, and others coordinated the program. George later became the first Indian taken by Dr Borlaug as a PhD student.
In April 1964, Dr Borlaug also came to see the crops. Some of the varieties did very well. They caught the farmers's attention, and they asked us for the seeds. Then, I sent a proposal to the ministry for what we called a National Demonstration Programme where we demonstrate in the poorest farmers's fields, not the rich farmers. The ministry kept the papers pending.
After Jawaharlal Nehru's death, Lal Bahadur Shastri became the prime minister and fortunately for us, he appointed C Subramaniam as the agriculture minister. Within a few days, Subramaniam called all the agricultural scientists. Our food position was so bad that Shastri had to appeal to people to forego a meal once a week.
At the round table of scientists from IARI, Subramaniam asked us, 'What shall we do?' When my turn came, I told him, 'We have the technology. Permit us to get it tested in farmers's fields so that we can speed up the work.' Subramaniam asked a young IAS officer, Venkataramanan, to send the file immediately for approval. We got an approval for 500 demonstrations.
So, in 1964-1965, demonstrations were done and more research was done. We started a programme to develop Amber grains because the Borlaug grain was red in colour which our people didn't like. Our people don't like dark rotis. So, we developed Sonalika and Kalyan Sona. Thus, we had all the ingredients for launching a larger programme.
In 1966, we proposed a high yielding varieties programme for wheat, rice, and bajra. The government approved it. It was to cover 32 million hectares. At the same time, we imported 18,000 tonnes of seeds of two varieties from Mexico because the demand from farmers was very high.
What happened was called the Punjab Miracle.
In 1968, Prime Minister Indira Gandhi released a special stamp called the wheat revolution. In the write-up, we paid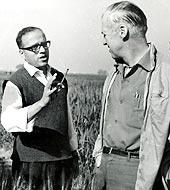 a tribute to Dr Borlaug for providing us the original seed material. We had a quantum jump in production. From 10 million tonnes to 17 million tonnes. When we became independent, we were producing 6 million tonnes. That is why it was called the Green Revolution.
Dr Borlaug was very happy. He used to come to India once a year to encourage all of us. His presence helped us build our self confidence. He was all for home grown food. We always looked forward to his presence. Those were the days when agricultural scientists were not given any importance. Agriculture was looked down upon.
Dr Borlaug helped us in three ways. One to make us believe that our farmers are second to none. He used to say, 'Don't get any inferiority complex.' Secondly, he said, 'Develop a swadeshi approach for food security. Help your farmers to produce more. Don't depend on imported food.' That way he helped us build our national sovereignty.
Above all, Dr Borlaug is the one who stood for taking the best from science to the poorest farmers.
Dr Borlaug was not only a scientist but a great humanist too. He was a scientist with asocial conscience. He was a product of the Great Depression of 1932. As a young boy, he had undergone enormous suffering.
To go to school, he used to sell all kinds of things on the streets. He knew what poverty is and what farming is. He had ploughed the field as a young boy of eight. That was why he had no patience for the bureaucracy.
Here in India, the decisions were taken by those who have never gone to a field. That was where his presence helped us. I used to take him to Subramaniam and Indira Gandhi and they used to listen to him. I had requested Indira Gandhi to nominate him for the Nobel Peace Prize and she kindly did.
After he won the Nobel Prize, he wrote to me saying, 'But for you, there would have been no Green Revolution in Asia.'
Two days before his death, an engineer showed him a small device called Seekar which can test the soil for nitrogen, phosphorous; all the nutrients. Just before his death, his last words to me were, 'Take the Seekar to the farmer. Don't delay.'
He was a very warm, friendly, humourous and loving person. Once he knew that my motivation was same as his, he shared a great warmth. I was supposed to meet him on Monday, but unfortunately, I was 24 hours late as I had to give a lecture at Virginia Tech on Monday and I had booked my tickets for Tuesday morning. He died on Saturday night.
I wish I had gone there on Saturday. I spent time with his family and they asked me to give a seminar at the local university. It was very well attended.
We were not just friends; our relationship was much more intimate. We were like brothers. He was like my elder brother. His last visit to India was to receive the M S Swaminathan award from then President A P J Abdul Kalam. It was an award set up by a trust in my name for the significant contribution to science and agriculture. The first award went to him.
It is a small award, but he came all the way. I was very moved by this gesture. He had come twice to our research foundation in Chennai and we have a hall in his name.
There is a saying in Gita, that from time to time, God appears in various forms. Norman Borlaug was one of those godly persons who appeared on earth when the world was in a serious food crisis.
Images: Dr Borlaug and Dr Swaminathan.
Read what Dr Borlaug told rediff.com in 2001 and what Dr Swaminathan told us in 2006.