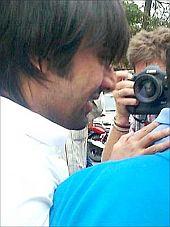 Bollywood actor Ashish Chowdhury's sister Monica and brother-in-law were among the many hostages killed at the Trident Hotel during the 60-hour siege of Mumbai.
On the first anniversary of the terror attacks, Ashish stresses on the need to let go of the grief and the trauma.
In a letter received by rediff.com he says: "I feel humbled by all the strength my friends and this fraternity gives me. Also, I do realise how I must let go of all that, that is buried inside me. I also am aware that there are plenty of others who have gone through a lot too."
"I just want to request one and all to help each other for a start. Whether it is the government, the doctors, teachers, the common public, whoever. We all need to help each other. Have love, respect for each other," the actor adds.
"There are so many incidents like these with really poor people too. We can start with some charity if nothing else. The revenue of all the events and programmes that are based on the pretext of the anniversary of 26/11, for example, should be given to charity. Lots more can and should be done," he says.
Ashish calls upon people to channelise their anger against the real enemy -- terrorism -- and not against any certain religion or people belonging to that religion.
"And finding the problem and curing it is not the end all. We've got to cure it from the root. It is not only people like Kasab; he is a victim himself -- a victim of wrong preaching, false teaching. Little kids are being brainwashed from really young ages, to commit felony in the name of religion. It's sad. But it's true."
"My dearest friends are Muslims and they have a totally different meaning of 'Jihad'. I do not think it's the religion. The Islamic religion is beautiful in my eyes. It's the select few, who are on an entirely different zone. All of Pakistan is not as it is being perceived. It's just that the cockroaches in that home have to be removed. All homes have some pests or the other. Crimes are committed in India too, my friends."
Stressing upon the need to spread and share love, Ashish says, "Hate is a big, bad emotion. It's got to be eradicated. Religion is not the be all and end all. I say all the internal religious problems in our enchanting, multi-faceted India too should be thrown in the back seat. We should unite. It's the need of the day. For me as a fellow human to all, I'm an Earth-ling first... then I'm an Indian, and then... Full Stop."
Image: A year ago, Ashish Chowdhury outside the Trident hotel where his sister and brother-in-law were killed by the terrorists.