Matthew Schneeberger meets young American politicians on a visit to India.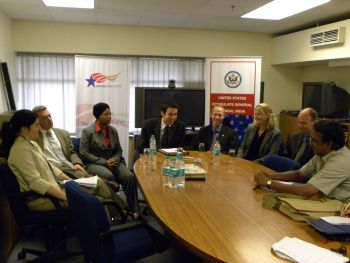 A seven-member delegation of young American politicians has completed a two-week tour of India, wherein they learned about governance in India and sought to build Indo-US cultural, economic and political ties.
The delegation, brought together by the American Council of Young Political Leaders, comprised a true slice of Americana: Caucasian and African-American, Democrat and Republican, rural and big city.
Democrats included former traveling political director for the 2004 John Kerry Presidential campaign Amy Dacey, Seattle-area member of the Washington state House of Representatives Zachary Hudgins and Missouri state representative Jamilah Nasheed.
Among Republicans were former vice president of the Claremont institute Brian Calle, Utah state representative Keith Grover, Paul Scapicchio of government relations firm ML Strategies and mayor of Farmington, Michigan, Valerie Knol.
For each of the seven -- all of whom are aged between 25 and 40 -- it was their first trip to India, one that included visits to Delhi, Chennai, Goa, Pune and Mumbai.
In Delhi, the delegation met several political leaders, including senior leaders of Bharatiya Janata Party and a few members of the Delhi assembly.
"I learned a lot about the political processes and party structures in India. In some ways, the American and Indian systems are similar. But there are many differences, too," said Nasheed. "Even within the coalitions themselves, I imagine it's very difficult to get all the different parties to agree on an overall agenda."
More than anything, Brian Calle was struck by the quality of Indian politicians. "They were very impressive, very intelligent, and obviously tuned into the needs of their constituents. Those we spoke to have a vision of India becoming a true global superpower, and have plans in place to achieve this: education reform, economic reform that focuses on job creation, improved health care and infrastructure, and so on."
In Chennai, the delegation met Deputy Chief Minister M K Stalin, members of the Indo-American Chamber of Commerce, workers from a women's non-governmental organisation and the owners of a self-sufficient eco-house outside of Chennai.
Valerie Knol said she was struck by India's joie de vivre.
"Amidst all this truly crushing poverty, you see smiles everywhere. You see a commitment to education, to improving the environment, to supporting friends and loved ones. There's definitely a strong sense of will, pride and determination that you see here."
Knol added that she was "extremely impressed" with the strong family unit in India, and lamented that the same couldn't be said for America's inner cities. "That support system, of having the family right there, is very valuable. There are many single mothers trying to raise children in our inner cities, and it's really difficult."
"It was disheartening to see so much poverty," revealed Nasheed, whose native St Louis, Missouri, is also known for its poverty.
"But the people here are so generous. That's what I will remember about India more than anything, the big hearts, the invitations and the kindness. Oh, and the traffic -- cows, cars and people all sharing the road!"
In Pune, the group had a chance to interact with students from a few local schools.
"They were just exceptional. All of them were so committed to their studies. In the US, sometimes we have a problem with complacency in our schools," said Knol.
While the trip wasn't supposed to focus on terrorism and Indo-US security ties, the issue popped up in Goa, at a restaurant of all places. One of the chefs there had lost a son, who was working in one of Mumbai's five-star hotels, during the 26/11 attacks. The other restaurant workers brought the chef out to meet the delegates, and he shared his son's story.
"It was almost a point of pride for this man, and for them too, that the son was a martyr for his country. It was amazing to see the determination and resoluteness with which they faced such a tragedy," said Paul Scapicchio.
Then, later in Mumbai, they visited Leopold's Cafe, another scene of the 26/11 attacks. "It really brought it home for me," said Calle. "It just makes terrorism all the more real, to actually see the bullet holes. It was like visiting 9/11's Ground Zero in New York City."
"As the world's largest democracy, and with its commitment to freedom, it's clear that India will remain a major strategic US ally for years to come," he added, before explaining that Indian soft power will steadily grow in the US.
"Indian culture is so fascinating. And then there's Bollywood! It's vibrant and colourful and engaging. And Indian food is some of the world's finest," said Calle, a vegetarian of 14 years, whose diet relies heavily on Indian inputs.
Asked to summarise their trip, Grover, a state representative from conservative Utah, was effusive in his praise for India and her citizens. "I've been completely humbled, meeting people all across this country. There's a lot more than connects us than divides us. I look forward to the Indo-US relationship strengthening in the years to come."
Knol agreed. "There are many similarities between America and India, and they will serve our relationship well. There's a love for democratic principles, for free speech, for religious freedom."
As the scheduled trip was ending, Zack Hudgins actually decided to stay on in India, for two more weeks. His wife was coming to join him, for a sort of "second honeymoon."
"India is just a fascinating country, the type of place you could never begin to understand in just two weeks. It's complex. It's beautiful. I definitely would like to spend more time here in the future," he said.
Image: The ACYPL delegation discusses its India trip with Mumbai journalists | Photograph: Matthew Schneeberger