'Nitish govt has given Bihar its lost identity'
Last updated on: October 20, 2010 15:34 IST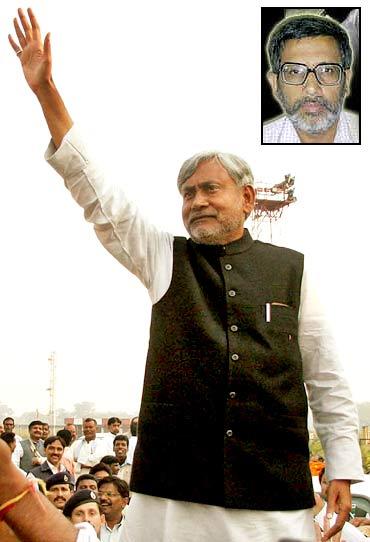 The man who has studied Lalu Prasad Yadav and Nitish Kumar from a vantage position in Patna's corridors of power speaks to Sheela Bhatt.
Rediff.com begins its coverage of the upcoming Bihar assembly election.
It is difficult to analyse and put in perspective the economic and sociological issues of a state as complex as Bihar. Dr Shaibal Gupta, director of the Patna-based Asian Development Research Institute, has been doing that for many decades.
Dr Gupta sees Bihar's fascinating politics and the issue of land and agriculture through the eyes of an economist.
He is a post-graduate from Patna University and has a doctorate in economics. His lifetime passion is to research Bihar's development problems.
While carrying out surveys in rural Bihar, he has been studying the development issue through the prism of the political economy.
In his effort to make his research user-friendly he established the Asian Development Research Institute in Patna.
Along with its sister organisation, the State Resource Centre, ADRI also works on adult education from Patna and Ranchi in Jharkhand.
Dr Gupta's book Bihar: Stagnation or Growth (edited with A N Sharma) is a significant source of reference on the state.
Dr Gupta, who has conducted extensive research on a variety of subjects including the study of dynamics of poverty, employment, education and demography in Bihar, is an expert on the state's industrialisation, caste and polity.
The man who has studied former chief minister Lalu Prasad Yadav and current Chief Minister Nitish Kumar from a vantage position in Patna's corridors of power, discusses the upcoming assembly election in Bihar and much more in an interview with Rediff.com's Sheela Bhatt.
Please click on the Next button to read the first part of the interview with Dr Gupta:
'The upper caste will never again come to power in Bihar'
Last updated on: October 20, 2010 15:34 IST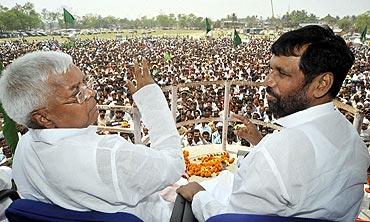 D
o you think the last five years have been a turning point in Bihar?
It is quite a turning point.
Nitish Kumar's five-year rule has created a certain benchmark.
Unlike many other states in post-independence India when Jawaharlal Nehru was building a nation State, there were many contemporary efforts in different states of India.
Like (legendary Congress leader K) Kamaraj was building up Tamil Nadu and (legendary Maharashtra Congress leader) Y B Chavan and Gujarati leaders were building strong regional states. There were no such commensurate efforts in states like Bihar.
The state-building efforts were not taken up in right earnest.
The important benchmark of this government is that they have taken up efforts to build the state.
Bihar is the only state in the country where there is a paradigm shift in the political power centre.
There is maximum democratisation due to various movements.
The movements led by the Socialists, Communists, Naxalites helped. Also, there was a social justice movement.
When in the 1990s Lalu Prasad came to power, the components of democratisation got much more solidified.
In places like Bihar, the upper castes will never come back to power. Only backward class leaders would lead the state.
However, when democratisation took place where subalterns came into prominence, they could not become a part of the structure of governance, which was not inclusive then and it was not inclusive when Nitish Kumar came to power.
What Nitish Kumar has done is that he has tried to put the subaltern section into the nuts and bolts of governance. He has reserved 50 percent seats for women, 20 per cent for the lower backwards and Dalits in Panchayati Raj.
He has ensured positive discrimination in many services including the judiciary. When the state structure was weak, radicals or criminals took up that space. Nitish has restored the authority of the State by ensuring the conviction of criminals.
He has ensured a joint collaboration of the executive, judiciary and legislature. He has ensured tripartite efforts to raise the conviction rate to 50,000 (cases), which is unprecedented.
Earlier, the convicted were from the marginal sections only, and now the critical component is that people from elite sections are facing conviction.
Previously, the elites thought they could get away with it.
Some of the legislators and members of Parliament from the ruling Janata Dal-United also got convicted, which was unthinkable earlier.
Previously, those who committed a crime, their stock increased in politics and they used to be natural aspirants for an election ticket. They used to flaunt their arms, publicly. Now, that is not the case.
'Nitish Kumar has been able to create a roadmap'
Last updated on: October 20, 2010 15:34 IST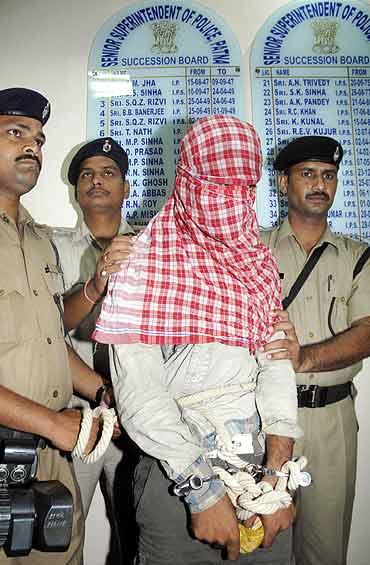 I
s the dramatic improvement in law and order a reality in villages too?
Conviction of the violators of law has increased. That doesn't mean that the crime rate is low.
Earlier, the fear of State was not there. When Nitish Kumar came to power, the State had almost abdicated its role as a social mediator.
In any crisis, the station house officer won't take note of the crime. People will go to the mafia or people who offered a remedy.
Now, there is restoration of the State's authority through a higher conviction rate.
Nitish choreographed this collaboration between the legislature, judiciary and executive.
What about the corrupt police force?
Nitish is institutionalising his ideas. The police is universally corrupt in our country.
In Bihar, the issue is that the administration has no institutional memory of good governance.
Nitish is trying to create some benchmark. For example, in any criminal case, the police had to produce the witness so that the accused get a conviction.
Now, if the police fails to bring in witnesses then his confidential report will not be proper. This kind of action is being taken now.
Earlier, in an arms case, the police never spoke up in court, to help the accused. Now, they are facing suspension and dismissal. These are very protracted affairs and didn't happen overnight.
In the last five years nothing substantial has been achieved, a lot has yet to be achieved. But, in the last five years Nitish Kumar has been able to create a roadmap.
'The Centre never understood how Bihar's interests were jeopardised'
Last updated on: October 20, 2010 15:34 IST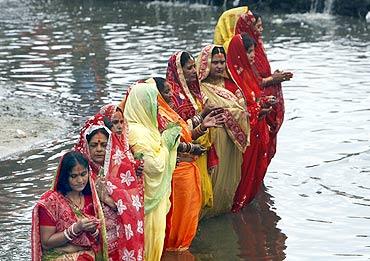 How do you draw Nitish Kumar's balance sheet?
One achievement is related to governance.
Bihar was a non-functioning state. He has been able to build the state of Bihar.
>In a decisive manner he is bringing the marginal people into government structure. He is trying to develop the regional identity of Bihar, which was absent all these years.
Here the anchor of identity was caste or nation.
In south India and western India, all the anti-Brahmin or caste movements tuned into regional identity. And that passion converted into economic development.
As it happened in Maharshtra: The anti-Brahmin movement turned into the building of lucrative sugar cooperatives.
In Bihar it didn't happen.
Regional identity gives a person a sense of ownership of the state. Like, in Tamil Nadu, when the issue of benefit of state comes, everybody gets united.
I remember how (then Tamil Nadu chief minister J) Jayalalithaa arrested (her predecessor) Karunanidhi, but in a few months time when Dr (A P J) Abdul Kalam was made President and she was not invited, Karunanidhi objected and said it was an insult of Tamil sub-nationalism that the chief minister of Tamil Nadu was not invited.
On the issue of Tamil interest, every Tamil gets united. That has not been the case in Bihar.
There are many policies that the central government is following, that are detrimental for Bihar's interests. Like the freight equalisation of coal, cement and steel introduced in the 1950s.
There is no such measure in cotton and other products due to which western India benefited. Bihar was devastated due to the freight equalisation.
In spite of powerful Bihari bureaucrats and more powerful leaders at the Centre, they could not understand how Bihar's interests were jeopardised.
Now, for the first time, Nitish Kumar is giving some identity to Biharis after 1912 when Bihar got separated from Bengal.
For the first time after 98 years, Bihar Day was celebrated. It was symbolic.
'People think Nitish is a visionary'
Last updated on: October 20, 2010 15:34 IST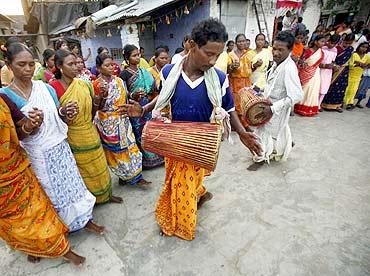 T
his identity would be woven around which factors?
One of the beauties of sub-national identity is that the caste identity gets marginalised.
Our sub-national identity is multi-caste identity. India has a well-defined history of two identities.
There is the Tamil identity and the national identity of Tamils. The same way it exists in Bengal.
There is a strong regional identity of Bengalis and their national identity.
For example, Rabindranath Tagore scripted national and sub-national anthems. He wrote Jana Gana Mana Adhinayak Jaya He for the nation, but he also scripted Amar Sonar Bangla, Ami Tomae Bhalobashi, which subsequently became the national anthem of Bangladesh.
So, most elites in India had two levels of nationalism. They never thought it was in contradiction with each other. But in Bihar, we never had it that way.
What Nitish has been able to do is to craft a coalition of extremes that gives Bihar its sub-national identity. It is similar to what Gandhiji did.
What does the common man of Bihar say about Nitish Kumar? How do critics see him inside Bihar?
People think he is a thinking person. He is a visionary. Generally his image is that he will go into the nuts and bolts of any problem.
He can script a strategy for the development of Bihar.
The critics say he is a loner. He is not likely to interact.
However, I think he is travelling among the people. He doesn't move with a coterie.
Many critics say he is unpredictable.
I think he is a 16 to 18 hours chief minister. He is working all the time.
He has no other agenda but to tackle questions of governance.
He is a forward-looking person in a place like Bihar, which always has been an insular state.
There is always a qualitative difference between land-locked states and states having maritime borders.
Over and above, after the failure of the Sepoy Mutiny (in 1857) there was massive repression so this area developed resistance to modernisation, unlike many southern or western states.
This is what lies in the background of the things Nitish is handling today.
'The extent of Bihar's growth has been dramatic'
Last updated on: October 20, 2010 15:34 IST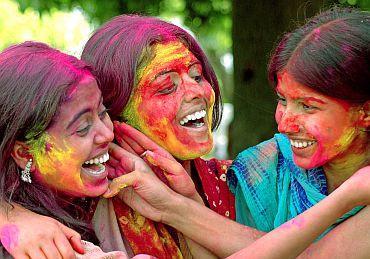 W
hat about corruption?
I think corruption is more outside Bihar.
New Delhi is the capital of corruption in India.
There are two models of corruption. One is the Gujarat model and the other is the Bihar model.
In Bihar, corruption is at a pre-production level where input is taken out even before production starts.
In Gujarat, scams are based on output and turnover.
In the case of Gujarat, the magnitude of corruption is much higher because it depends on output.
Bihar is undergoing a transition where input-related corruption is diminishing.
Now, roads are being built, bridges are delivered.
I am not saying corruption is not there, but in the last five years, huge public investment has taken place.
Some 1,500 bridges and culverts have been built. That is unprecedented.
Earlier, planned expenditure used to be Rs 4,000 crores (Rs 40 billion); now, it's Rs 20,000 crores (Rs 200 billion).
It is a small figure compared to many states, but the extent of growth is dramatic.