Grieving relatives throng Mangalore hospitals
Last updated on: May 23, 2010 15:56 IST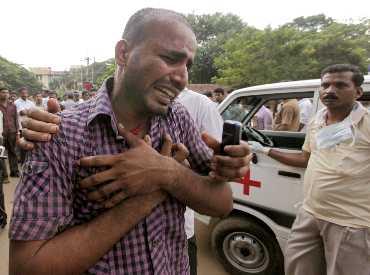 Hospitals in Mangalore on Sunday struggled to cope with scores of grieving family members who turned up to collect the bodies of their loved ones. Touching scenes of grief and disbelief were witnessed at Wenlock Hospital and others, where the bodies of the Air India plane crash victims were kept after the tragedy.
Doctors and nurses at the hospital were stretched to handle the situation and carried on bravely.
Text: Vicky Nanjappa
Identifying the badly-charred bodies has become difficult
Last updated on: May 23, 2010 15:56 IST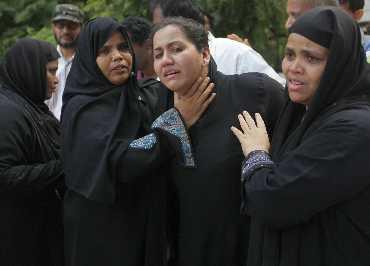 Several victims were from Kasaragod and Kannur districts of neighbouring Kerala. Priority was being given to post-mortem as identifying the badly-charred bodies has become more difficult now with rapid decomposition, Superintendent of Police (Kasaragod) P Prakash said.
At the hospital, relatives of the victims were seen trying hard to identify their loved ones, with their faces covered with masks. Many bodies were charred in the fire that consumed the aircraft after it crashed on Saturday, making it difficult to identify them.
Free coffins to family members
Last updated on: May 23, 2010 15:56 IST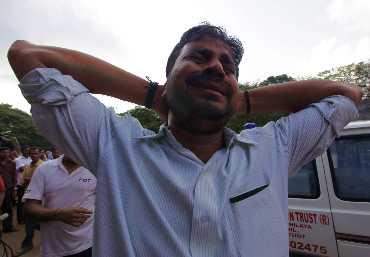 An Air India representative said the carrier had made arrangements to provide free coffins to family members to shift the bodies after identification.
On Saturday night, when search operations were still going on in the ravine where the plane landed after overshooting the runway, relatives of the passengers harboured hopes that maybe their loved one had managed to survive the crash.
But their night-long wait came to a hopeless end when they learnt that only eight passengers had managed to survive miraculously.
'The wait is never-ending'
Last updated on: May 23, 2010 15:56 IST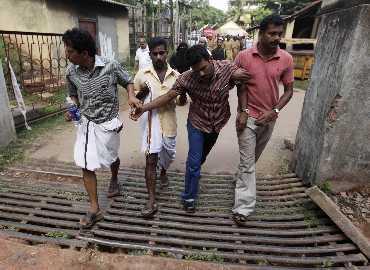 A forensic team from Hyderabad has arrived in Mangalore to assist the bereaved families  in identifying the bodies, most of which are charred beyond recognition. So far, 87 bodies have been identified, including those of the six crew members, who were all killed in the crash.
"The wait is never-ending and it is tough waiting for experts to identify the bodies of our loved ones. We are just waiting for the obvious," says Sameera, whose brother was on board the ill-fated aircraft.
"It is a day-long process, but we will ensure that we complete it (identifying the dead bodies) as early as possible. We don't want to keep the families waiting since we can understand their anxiety," said one of the members of the team.