Nonetheless, the struggle continued...
Last updated on: February 22, 2010 23:55 IST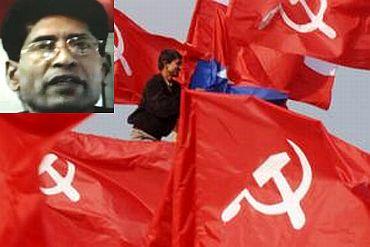 Swedish writer Jan Myrdal and Gautam Navlakha, consultative editor, Economic and Political Weekly, travelled into the jungles of the eastern ghats to interview Mupalla Laxman Rao, the Communist Party of India-Maoist general secretary better known as Ganapathy.

With the government asking the Maoists to abjure violence and sit down for talks, Ganapathy said that the government had to withdraw the all-out war, lift the ban on the party and mass organisations and stop the illegal detention of party members if the Maoists were to come for talks.

In the first of the 4-part series, Ganapathy talks about the birth of revolutionary movement, its struggles and how it has learnt its lessons with passing time.

How do you envisage the linking of this struggle with a general struggle in India in terms of class? Chairman Mao took the Long March to Yenan. Once a United Front was formed along with Chiang Kai-Sheik, it became the main national power in China. How do you envisage becoming a national power in India?

In China, the condition in which Long March to Yenan took place is different to our present situation of New Democratic Revolution (NDR) of India. Chinese revolution had taken place in first half of the 20th century.

Since then several significant changes have occurred in the world. First there was the emergence of a socialist camp and its subsequent down fall; second came the downfall of colonialism and emergence of neo-colonialism; then the emergence of the so-called parliamentary system as a common political system throughout the world followed by a long gap in the revolutionary upsurge after success of revolutions in Vietnam, Kampuchea and Laos.

In this trajectory, there were various ups and downs in the World Socialist Revolution but nonetheless, the struggle continued. It is like waves at times and it slowed down, but it never ceased. We have to see any revolution of a country in the light of historical context. Click on NEXT to read further...


'The revolutionary movement spread like prairie-fire'
Last updated on: February 22, 2010 23:55 IST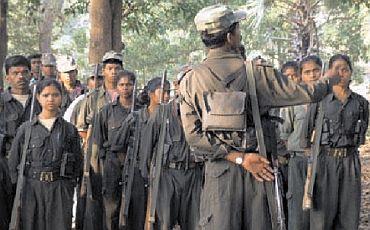 The CPI (Maoist) in India: Background

Our unified party, the Communist Party of India (Maoist), was formed on September 21, 2004 by merging two Maoist revolutionary streams of India -- the Communist Party of India (Marxist-Leninist) and Maoist Communist Centre (MCC).

Our great beloved fore-founder leaders and teachers -- Comrades Charu Mazumdar (CM) and Kanhai Chatterji (KC) -- led an ideological and political struggle ceaselessly for a long time against revisionism and modern revisionism of Communist Party of India and CPI (Marxist).

It was through this struggle that the backbone of the revisionist parties was broken, resulting in a breakthrough in the Indian communist movement. Subsequently, the great Naxalbari armed peasant uprising broke out like spring thunder. A new history had begun.

The revolutionary movement spread like prairie-fire to almost all parts of the country in a different scale. During this revolutionary course, within a short period, two parties -- CPI-ML and MCC -- were founded on April 22, 1969 and October 20.

Due to several historical reasons we failed to form a unified Maoist party at that juncture.

But our basic ideological and political line, path and strategy of the revolution, and several other basic positions on important questions, which we confronted at the time, were basically the same.

The Indian ruling classes unleashed a reign of terror on all revolutionary movements, starting with the Naxalbari armed agrarian uprising.


'We uphold ideological and political line of a genuine Maoist party'
Last updated on: February 22, 2010 23:55 IST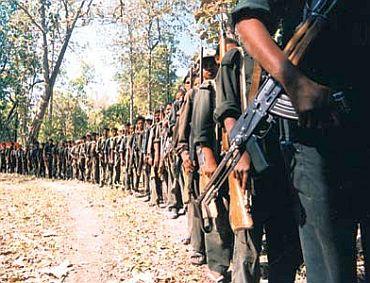 An intensive internal political and ideological struggle began in 1971. The party disintegrated into several groupings due to serious tactical mistakes, state terror, severe losses, lack of proper leadership and negative effect of two-line struggle within the Communist Party of China.

Towards the end of 1972, after the arrest and martyrdom of Charu Mazumdar, we lost a large number of leaders and cadres across the country.

From July 1972 to 1980, several splinters dominated the CPI-ML, most of them lead by right and left-adventurist leadership and disarray spread over. But on the other side, an MCC-armed revolutionary peasant struggle broke out in Kanksha. Despite initial setbacks, it steadily expanded to Bihar, and to some extent to Assam and Tripura.

We uphold basic ideological and political line of a genuine Maoist party, learned lessons from practice, seriously engaged in the class struggle and firmly stood for correct positions on several ideological and political questions.

It was due to these positions that the CPI-ML Party Unity (PU) and the CPI (People's War) emerged in 1978 and April 22, 1980 respectively. Once again, MCC, PW and PU built armed agrarian revolutionary movements in different parts of the country, particularly Andhra Pradesh and Bihar.

We strengthened our party, revolutionary mass movement and armed struggle considerably in 1980s and 1990s, which culminated in the formation of a new party in September 2004.

From 1977, a large number of genuine Maoist forces merged and consolidated in the CPI-ML, PW, MCC and CPI-ML-PU.

This process is still continuing.

'Maoists have traversed through a torturous path'
Last updated on: February 22, 2010 23:55 IST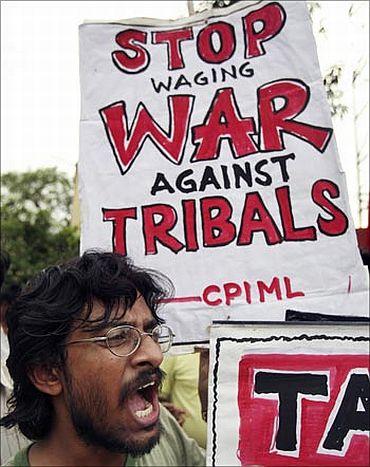 CPI (Maoist) Agenda, Lessons Learnt


We opine that our struggle within the CPI and CPM is an integral part of the great struggle conducted in the International Communist Movement headed by the Communist Party of China under the direct leadership of comrade Mao.

We also opine that the internal struggle within the CPI-ML, which took place for several years, is connected directly or indirectly with the internal struggle of the CPC before and after Mao's demise.

The modern revisionist Deng clique, which usurped power in China, caused damage not only to our party and revolution but also to the world revolution. We, however, firmly stick to Mao.

Our experience clearly shows that Indian revolution was majorly influenced by the positive and negative developments of International Communist Movement (ICM).

We, the Indian Maoist party, have traverse through a torturous path for a long period.

After formation of the unified party, the most favourable situation emerged for the advancement of revolution. We lost this good chance between 1969 and 1972. The biggest boon of this merger has been the result of the synthesis of over 35 years of experience of Indian revolution. It has given us enriched basic documents in terms of strategy, tactics and policies.

Our merger brought about a significant change from two different parties working in distant separate areas or small pockets to a party with an all-India character. Before the merger, despite both parties having central committees, there was a serious limitation to their functioning as central bodies with an all-India perspective.

But after the merger, our understanding about the uneven development of both the country as well as the revolutionary movement was further enriched. The process is not yet complete, but at least the disadvantages have been done away with. A clearer and enriched line has emerged in terms of both India and world context.

'They are trying to eliminate our party leadership'
Last updated on: February 22, 2010 23:55 IST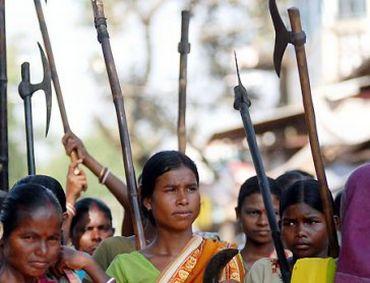 In recent years, we have suffered several loses. Our central committee has said that we should avoid mistakes to avoid losses and boldly face the enemy.

At present, in our country, other Maoist parties are not in a position to provide leadership to the masses due to their right deviationist line and limited strength. The progressive and democratic forces lack basic revolutionary plan of action and have a limited area of influence.

I reiterate that at present no one party or organization is capable enough to be a rallying centre for all revolutionary, democratic, progressive and patriotic forces and people. Our party has an all India character and a good political militant mass base in several states.

The People's Liberation Guerrilla Army (PLGA) is fighting the enemy in several states and the New Democratic People's power is emerging in Dandkaranya (an area in central India, which comprises predominately tribal districts of five Indian states -- Andhra Pradesh, Chhattisgarh, Madhya Pradesh, Maharashtra and Orissa), Jharkhand and some other parts of India.

We have a clear-cut understanding to unify all revolutionary, democratic, progressive, patriotic forces and all oppressed social communities including oppressed nationalities against imperialism, feudalism and comprador bureaucratic capitalism.

Our New Democratic United Front (UF) consists of four democratic classes -- workers, peasants, urban petty-bourgeoisie and national bourgeoisie. If we wish to form a strong united front, it must be under the leadership of proletariat, based on worker and peasant alliance. It must be supported and defended by the people's army. Without the people's army, people have nothing to achieve or to defend.

Hence, the enemy is seriously trying to eliminate our party leadership with the aim of destroying a revolutionary and democratic centre of the Indian people. But the condition has matured enough to rally around one centre and the revolution could go ahead under the leadership of the CPI-Maoist).