In Kashmir, pelting stones for a price
Last updated on: February 8, 2010 15:45 IST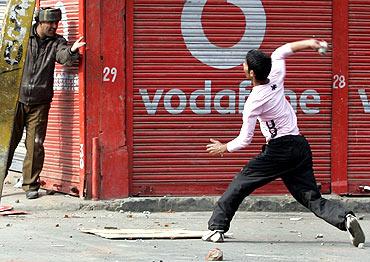 Stone pelting in Kashmir valley appears to be fast turning into a lucrative 'business' for some unemployed youths offering this 'service' for a price.
Several youths are also operating 'stone pelting' cartels funded by separatist organisations and some political parties, sources say, adding that business worth lakhs of rupees is usually generated through this activity.
Details in this regard came out during extensive interrogation of a stone pelter arrested by the Jammu and Kashmir police over a period of last three days.

Separatist groups, especially those owing allegiance to Pakistan-terror outfit Hizbul Mujahideen and Lashkar-e-Tayiba, are alleged to have formed several groups comprising a minimum of dozen people, sources in the interrogation team said.

Click on NEXT to read further...


Amount ranges between Rs 5-8 lakh
Last updated on: February 8, 2010 15:45 IST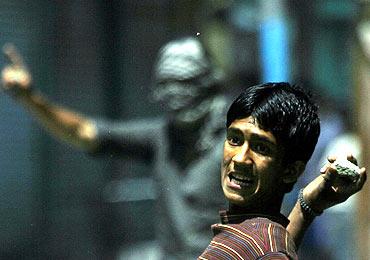 These groups are paid a hefty amount ranging between Rs 5-8 lakh, they said, adding that a part of this money is handed over to another group known as "initiators", who pick up stones and start pelting on police and paramilitary forces -- sometimes on trivial issues.

The groups, which are alleged to have been receiving funds from a political party as well, have stationed their people in various localities and other districts of the Valley, the sources said. This could be the reason for stone pelting incidents occurring in a synchronised manner throughout the valley during agitations and protests, they said.

The sources said while the exact amount of money being pumped into the stone-pelting business was yet to be estimated, it could be running into lakhs of rupees.


'A new form of gunless terrorism'
Last updated on: February 8, 2010 15:45 IST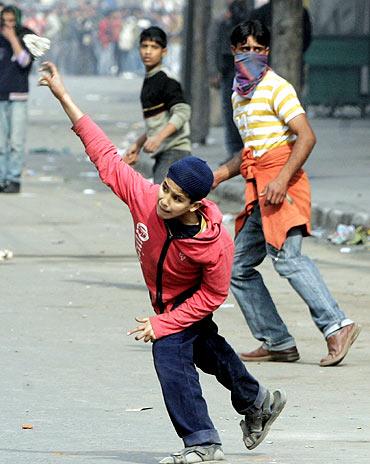 Special Director General of CRPF (J&K) N K Tripati had recently stated that after the decline in militancy-related activities, 'a new form of gunless terrorism in the shape of stone-pelting' had emerged in Kashmir.

"It is being funded by Pakistan and its agencies through Over Ground Workers (sympathisers of militants) and hawala channels," he said.

"There are a large number of instances of unprovoked stone-pelting by hostile mobs on CRPF that has left 1500 jawans injured and close to 400 vehicles damaged in the last one-and-a-half year," Tripathi said.


A divide over the issue continues
Last updated on: February 8, 2010 15:45 IST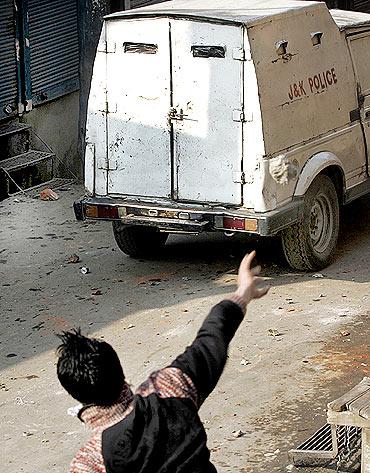 Adding to the woes of policemen were protestors making use of stones and building material kept by government agencies on roads for construction activities, the sources said.

The government should ensure completion of work within a time frame as otherwise these materials would come handy for the stone pelters, they said.

There is, however, a divide within separatists in Kashmir over the issue. This came to the fore especially after Jamiat-i-Ahlihadith President Moulana Showkat Ahmad Shah created a stir by coming out with a fatwa that Islam did not sanction pelting stones on armed security personnel.

"Stone pelting cannot be justified. Islam is about discipline and if the leaders are asking people to refrain from stone pelting then they should adhere to these directions. Prophet Muhammad too has asked us to refrain from it," Maulana Showkat Ahmed Shah had said on March 27 last year.


Retaliation to 'tyranny of gun wielding troops'?
Last updated on: February 8, 2010 15:45 IST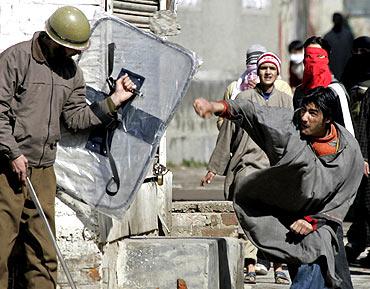 However, Tehreek-e Hurriyat chairman Syed Ali Shah Geelani claimed that incidents of stone pelting took place in retaliation to the 'tyranny of gun wielding troops'.
"If troops allow us to hold innocuous and peaceful protests, why would we take to stone pelting," he had said.
Quoting a verse from the Quran, the septuagenarian leader maintains that Allah permits resistance to oppression.
Senior separatist leader and president of Islamic Students League Shakeel Ahmad Bakshi agreed with Geelani and said that the oppressed lot had been granted the right to show resistance.
'There are other ways to show anger'
Last updated on: February 8, 2010 15:45 IST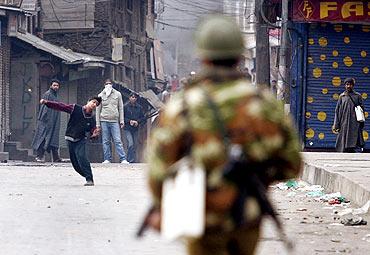 "Religion does not bar the oppressed and subjugated people from showing resistance. Stone pelting has remained part of the movement and the fatwas issued against it have no basis," he said.
The Jammu and Kashmir Liberation Front also expressed its support for stone pelting as a form of agitation.
However, senior Hurriyat Conference leader and Anjuman-e-Sharie Shian president Agha Syed Hassan Al-Mosavi stated that stone pelting 'defiles the spirit of Islam'.
"There are other ways to show anger -- through chanting slogans and peaceful protests. People must abstain from stone pelting," he said.
'We have only stones to respond'
Last updated on: February 8, 2010 15:45 IST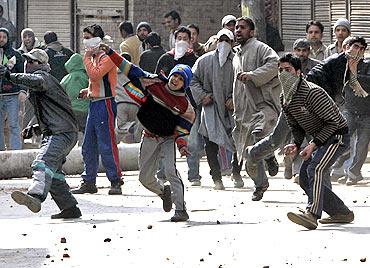 'Kani jung' or stone pelting has been Kashmir's distinctive way of expressing pent up resentment about religious, social, political and administrative issues.

The practice gained popularity in the 1960s -- when supporters of National Conference called sher (lions) and of the Awami Action Committee called bakra (goats) -- would indulge in clashes that known as sher-bakra battles.

Politics apart, the common Kashmiri goes about 'expressing his resentment' through peling stones. As Muzaffar Ahmad, a Srinagar resident, says: "They are using bullets against unarmed protesters and we have only stones to respond." Who is right and who is wrong, you take the call.