What binds Amit Shah, Afzal Guru and Manu Sharma
Last updated on: August 9, 2010 09:49 IST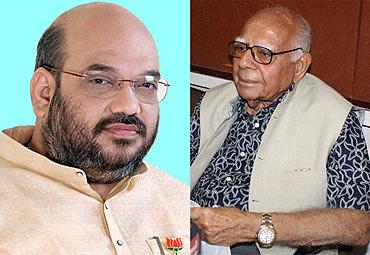 Former Gujarat home minister Amit Shah has appointed noted criminal lawyer Ram Jethmalani to defend him in the fake encounter case of Sohrabuddin Sheikh. Shah has been arrested by the Central Bureau of Investigation on charges of murder, extortion and kidnapping of Sheikh and his wife Kausar Bi.
Shah is yet another name on the illustrious list of famous clients the 87-year-old lawyer has represented in his legal career spanning nearly six decades.
A firm believer in the adage that every person is innocent until proven guilty, Jethmalani has represented gangster Haji Mastan, Swami Premananda of Trichy who was accused of 13 counts of rape and the powerful Hinduja brothers in the Bofors case.
Rediff.com takes a look at some other controversial clients and high-profile cases taken up by the legal luminary over the years.
Manu Sharma
Last updated on: August 9, 2010 09:49 IST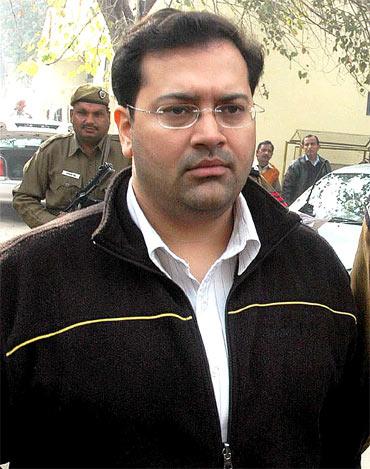 Jethmalani's decision to defend Manu Sharma had shocked even his closest aides and family members. Sharma had killed model Jessica Lal at a posh Delhi restaurant in front of dozens of witnesses in 1999, after she refused to serve him a drink.
But most of the witnesses later turned hostile, as Sharma was the son of powerful Congress leader and former Union minister Venod Sharma
In an interview with Karan Thapar, Jethmalani said he had "the obligation to defend a person against an undeserved, vicious onslaught by the media, which is subverting criminal justice and the whole criminal justice process".
But even Jethmalani's unparalleled legal experience could not save Sharma from paying for his crime. He was sentenced to life imprisonment by the Delhi high court, and the sentence was upheld by the Supreme Court on April 19, 2010.
L K Advani
Last updated on: August 9, 2010 09:49 IST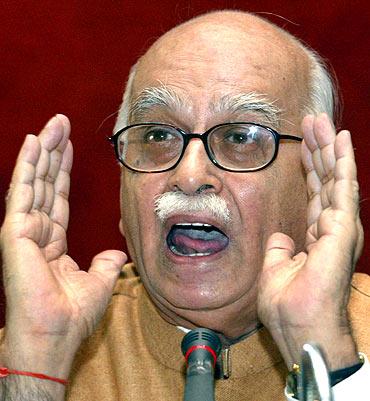 Bharatiya Janata Party leader L K Advani was one of Jethmalani's most high-profile clients in the multi-crore hawala scam.
The CBI had charged Advani with receiving Rs 3.5 million in 'illegal gratification' from hawala brokers Jain brothers while serving as a public servant between 1988 and 1991.
The Delhi high court quashed the charges against the veteran leader citing lack of evidence, and the Supreme Court upheld the judgment on March 2, 1998.
Ironically, Jethlamalani had earlier initiated a PIL urging the court to direct a probe into the scam.
As a reward for his services, Jethlamani was appointed the law minister when the BJP came to power in 1998. He was later sacked by Prime Minister Atal Bihari Vajpayee when he picked up a fight with then Chief Justice of India Adarsh Sein Anand.
Lalu Prasad
Last updated on: August 9, 2010 09:49 IST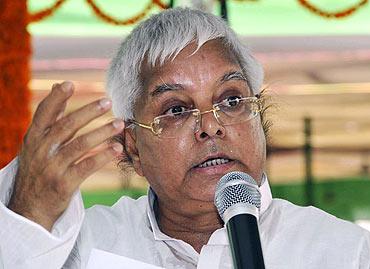 The fodder scam remains one of India's best known corruption cases.
In one the many case related to the mutli-crore scam, Lalu Prasad was accused of amassing property worth Rs 46 crore above his known sources of income between 1990 and 1997, during his tenure as the chief minister of Bihar. His wife and then chief minister Rabri Devi was accused of abetting her husband.
Jethmalani successfully defended the beleaguered politician and his wife in court. In December 2006, a special CBI court acquitted the duo in the disproportionate assets case against them.
Kehar Singh and Balbir Singh
Last updated on: August 9, 2010 09:49 IST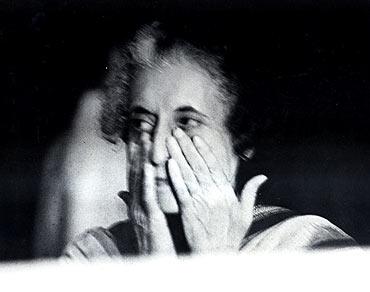 On October 31, 1984, then Prime Minister Indira Gandhi was shot dead by two of her own bodyguards -- Satwant Singh and Beant Singh.
Beant Singh's uncle Kehar Singh and Balbir Singh were arrested for planning Gandhi's assassination. They were found guilty by a trial court and sentenced to death. During the confirmation of their sentence by the high court, the duo asked to be represented by Jethmalani, who accepted the court's command.
The eminent lawyer faced strong protests for his decision to defend the two men. Fearing public backlash, the BJP threw him out of the party while the Congress ridiculed him.
Jethmalani's passionate pleas about the innocence of the two men got Balbir Singh acquitted in the Supreme Court, but the apex court upheld the conviction of Kehar Singh. Jethmalani has often reiterated that Kehar Singh was innocent and his conviction and subsequent hanging was a mistake.
Afzal Guru
Last updated on: August 9, 2010 09:49 IST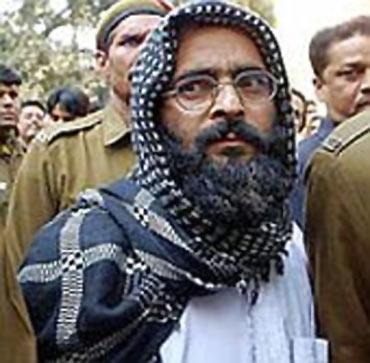 Though Jethmalani never represented Afzal Guru in court, he had argued against the death sentence awarded to the Parliament attack convict during a speech in the Rajya Sabha.
"Life imprisonment is bigger than any doctrine that you will go to heaven (after getting death punishment). You must keep him in jail for life," Jethmalani had said in November, 2006.
"The poor fellow (Afzal) did not even get a fair trial," Jethmalani had claimed.
However, he changed his stance on Afzal in 2010, after he was nominated to the Rajya Sabha on a BJP ticket.
"I am in complete agreement with the BJP's stand that Guru is a terrorist and such suicide bombers should get death punishment," he told mediapersons recently
Harshad Mehta
Last updated on: August 9, 2010 09:49 IST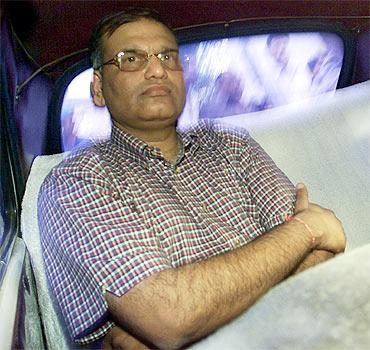 Stock broker Harshad Mehta, who scuttled the finances of several firms and the dreams of millions of investors through his many scams in the stock market, was another client of Jethmalani.
Mehta was accused of misappropriating over 27 lakh shares of nearly 90 companies by using forged share transfer forms. He was barred from trading in the stock market and as many as 28 cases were lodged against him in connection to the scam. Mehta's scams reportedly caused a loss of Rs 4,000 crore to various firms and investors and brought the stock market crashing down.
Mehta's trials remained unresolved as he died of a heart ailment in December, 2001, at the age of 47.