The pilot who is a fighter
Last updated on: September 24, 2009 11:55 IST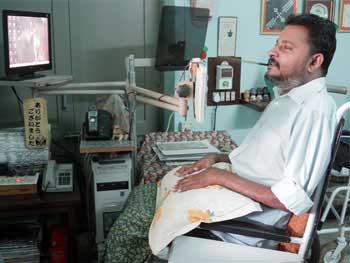 It is with great sadness that we inform readers that M P Anil Kumar, one of Rediff.com's most distinguished contributors on matters as diverse as defence and sport passed into the ages on Tuesday, May 20. He had turned 50 two weeks ago.
We salute his memory with this September 2009 feature on his incredible, inspiring, life.
---
M P Anil Kumar was a dashing MiG-21 pilot in the Indian Air Force when a road accident left him paralysed below the neck. He was just 24.
Since 1988 he has lived in the military's Paraplegic Rehabilitation Centre in Pune and has become an inspiration to many in the manner in which he has picked up the threads of his life.
Today Anil Kumar uses a keyboard with his mouth and is a gifted writer whose by-line Rediff.com readers will instantly recognise. An article he wrote about his disability was so inspirational that it found its way in school textbooks in Maharashtra.
Nitin Sathe, who was in the same course as Anil Kumar at the National Defence Academy, Khadakvasla, pays tribute to this amazing fighter.
If you ever visit the Paraplegic Rehabilitation Centre at Khadki, Pune, in the very first room, you will meet retired Flying Officer M P Anil Kumar, fondly called MP by those who know him.
On his wheelchair, sitting at the computer and pecking away at the keyboard with a mouth-held stick, MP keeps churning out articles with a finesse and class that few writers can only dream of. You can read a lot of his writings on varied topics, on rediff.com as well as in some national dailies.
MP is a quadriplegic. He was paralysed neck below due to a motorcycle accident on his way back from the squadron after night flying on June 28, 1988. The accident confined him to a wheelchair for life.
ALSO READ: A World of Wheelchairs
Eight years before that fateful night, MP, all of 16, had reported to the National Defence Academy in Pune as a fresh cadet. Just out of the Sainik School Kazhakootam, he had wanted to join the Indian Air Force and fly the fast and furious fighter jets, a dream of every young man.
MP comes from a small village about 35 kilometres from Thiruvananthapuram. At the age of 9, he left home to join the Sainik School. After spending some time there he made up his mind to join the air force one day.
Like the 288 from our batch, he underwent training at the NDA for three years. Thrown in the cauldron of multi-faceted, multi-dimensional training, the cadets hardly got enough time to interact with each other, primarily because of the fact that there is no time from rigorous training. In the little spare time that we managed, most flocked together as 'school types' or 'place types' or 'lingo types.'
Please click Next to read More about this incredible man...
He was the best Air Force cadet of the course
Last updated on: September 24, 2009 11:55 IST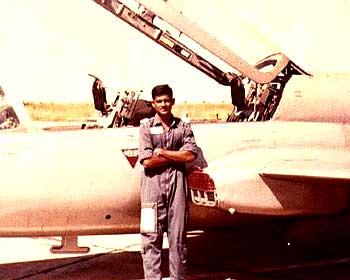 MP was part of the 'I' (India) squadron where he preferred to remain as 'quiet' and 'underground' as in school. In fact, some of the pongo (army) course-mates were blissfully unaware that MP even existed as part of the course! I remember someone asking during a PT class if MP was a relegated cadet who had dropped into our course from the senior term!
Notwithstanding the fact that he was not seen and not heard, MP was an all-rounder. He was very good in all outdoors games and excelled in gymnastics. One still remembers the somersaults and the back-flips he could perform effortlessly, much to everyone's awe. He was always part of the end of term gymnastics display missing out on the passing-out parade practice that we, the lesser mortals, had to go through. He actively indulged in all the games that were on offer and was particularly good at football, basketball, hockey, volleyball, cricket and athletics.
Not only that, MP was good at studies too. While some of us tried hard not to nod off during the numerous lectures -- after having woken up at the crack of dawn coupled with all the outdoor activity of the morning -- MP was far ahead of his class. He was the proud recipient of the academics silver torch -- a distinction most of us only could dream of.
MP could easily have been amongst the top three President's medal winners of our course, but for a little incident towards the end of his fifth term (the story is best told by MP himself!). He, however, came fourth in the order of merit, a very creditable achievement indeed. In addition, he was also declared the best Air Force cadet of the course.
At the Air Force Academy in Hyderabad, while most of us worked hard at learning how to fly and mugged up 'checks and procedures,' flying came naturally to MP. He could teach a few things about aerobatics and aircraft handling to the instructors themselves! It came as no surprise that MP was awarded the 'best in aerobatics' trophy at the end of training at the Academy.
Please click Next to read More about this incredible man...
His journey is of immense courage
Last updated on: September 24, 2009 11:55 IST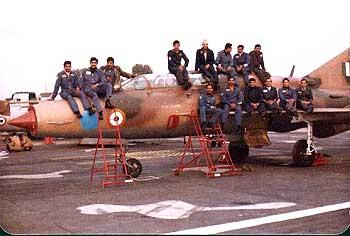 As a young pilot at the Air Force Academy, he continued to remain the 'quiet' types, but those of us who were close to him, had a chance to get an insight into his wit, humour and positive thinking. Only five from the batch were selected to go to the fighter stream and MP was one of them.
We parted ways to go and fly operational aircraft in various squadrons and units and the only contact that remained was through letters from friends and 'crew room gossip.' The Internet was not even on the horizon those days.
When this young Pilot Officer was posted to Pathankot, here too, he was regarded as a thorough professional by his seniors, while his juniors always looked up to him for advice and guidance.
MP was soon nominated by the squadron to represent it in the Best Upcoming Fighter Pilot, an annual contest conducted by the IAF. He was the junior-most among the nominees, something he was very proud of, but the day of the nomination was when life changed for him forever.
This strapping young fighter pilot was going great guns till that night, 19 years ago when a bolt of bad luck brought this great promise from the cockpit to a wheelchair and cut short what would have been sterling career in the Indian Air Force.
MP has very vivid memories of his early life as a quadriplegic and about how he learnt to accept the disability, pick up the threads again and start living his second innings. His journey is one of immense courage, and has been described in his own words in an article he wrote titled 'Airborne to Chairborne' which, incidentally, kick-started his writing career.
In the piece he writes how he conquered the bouts of depression and began the second phase of his life in the paraplegic home, thousands of miles away from his native Chirayinkil in Kerala. He slowly and painstakingly taught himself to write by holding a pen in his mouth and finally learnt to use the keyboard of a PC with his mouth.
So inspirational was this article that it found place in the English textbook of schools affiliated to the Maharashtra board and an abridged version has recently been included in the English Reader in Kerala. This has won him many young fans and friends.
Please click Next to read More about this incredible man...
MP's will to survive is a lesson for all of us
Last updated on: September 24, 2009 11:55 IST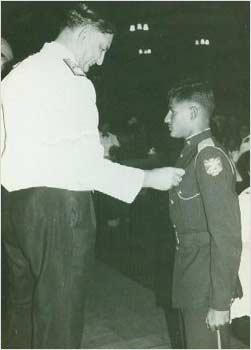 Today, MP is a permanent resident of the Paraplegic Rehabilitation Centre at Khadki. He spends a major portion of his day writing; a few hours in the morning and evening. He specialises in writing on defence matters and is a repository of knowledge. MP hasn't stepped out of the hospice, but his mind travels the world vicariously and I sincerely urge readers to read and appreciate his work.
Sometimes, some of us are wary of meeting people with disabilities because we don't know where to begin and what to say to them. But if you meet MP, you will realise that it is he who takes the initiative to make you comfortable and at ease with his scintillating conversation. His positive attitude, his zest for knowledge comes forth within minutes of meeting him and anyone would be impressed with his confidence, determination and most of all, his humour and wit.
MP's will to survive is a lesson for all of us who tend to wilt under pressure -- far much lesser than what this man has undergone. He is, and always will be, a source of inspiration to all of us.
I leave you with a few lines from MP's piece 'Airborne to Chairborne:'
'Believe it or not, every cloud has a silver lining. To surmount even seemingly insuperable barriers one has to shun the thought of disability and muster the remnant faculties and canalise ones energies purposefully and whole-heartedly it isn't just physical ability and intelligence but an insatiable appetite for success and unstinted will power that would texture the warp and woof of fabric called human destiny. Greater the difficulty, sweeter the victory.'